Google Morningside Plumbing Near Me to find the local plumber Atlanta neighborhoods have trusted for 50+ years. Morningside Plumbing provides comprehensive plumbing services for residential homes and commercial properties. In addition, the plumbing company offers free quotes, no-obligation estimates, and 24-hour emergency services.
The most sought-after services are drain cleaning, water leak detection, water filtration installation, and sewer line repair. Residential water heater services include water heater maintenance, water heater repair, and installation service for replacement water heaters. We also have tankless water heater experts to repair units and install replacement tankless water heaters. Please request a free quote from the affordable plumbers near me. Atlanta residents say it exceeds expectations.
Recent Morningside Plumbing commercial projects involve trenchless sewer pipe replacement, HydroVac excavation services, and advanced pipe bursting solutions. Industrial sewer jetting services are available for commercial drain cleaning. Commercial industries they serve include food service, military, government, and retail. Please request a quote or call us for commercial benefit.
Call The Best Local Plumbing Company Near Atlanta When You See These 5 Signs
There are as many plumbing system warning signs to spot as valid reasons to call a plumber. Here, the focus is on the top five signs that indicate a water line leak.
An increase in water usage with no explanation.
A sudden reduction in water pressure.
Water seeps out of the ground in a spot that never dries.
Cloudy or discolored water from the tap.
An unusually high water bill that does not make sense.
Noticing these signs means calling a professional plumber to discover what is happening. So, when you see these signs, call a plumber right away, do not delay. Putting off calling a plumber lets the leak continue to damage your property. Feel free to request an appointment for a free estimate via this online form.
Only the best local plumbers will come to your property, investigate and accurately diagnose the problem, and give you a free quote. With an estimate, a customer service-centered plumber will help you understand what is leaking and why. Also, they will go over the best leak repair and water line replacement options that will fix your issue.
What is Call 811 Before You Dig?
In Georgia, state law mandates that all utility lines be marked before any mechanized digging begins—the idea is that it is safer to dig knowing where utility lines traverse your property.
Fortunately, the 811 utility line marking service is free. So, for the utmost safety, it is wise to contact Georgia 811 before digging in your yard  – even with hand tools. , you are not liable for damages. So, if searching damages anything, you are in the clear. Just report it to Georgia 811 and the utility in question right away.
Before underground water line repair or replacement work begins, call 811. Calling this number sends officials out to flag underground utility lines. Most Atlanta homes have many pipes, cables, and utility lines buried in the front yard. Pipelines can include sewer pipes, drain lines, water pipes, and gas lines. Other underground lines are electrical power lines, data cables, conduits, communication lines, security alarm wiring, and Internet service provider lines. But that is not all. Often there are sprinkler and irrigation system lines, propane lines, and drainage lines.
Typically within three business days, utility owners and operators visit your property flag to provide you with the "all clear." Always contact Georgia 811 about a week before digging in your yard. Not doing so is too risky and has consequences. Neglecting to call 811 means your dig will be unsafe. And you risk, for one, rupturing explosive gas utility lines. Gas line leaks disrupt lives and can kill. And on top of causing mayhem for your community, according to the law, you must pay to repair any utility lines you damage.
Even trenchless water line replacement services, essentially a no-dig procedure, will require some digging. So, visit Georgia811.com online 24/7 or call 811 about a week before you plan to dig.
Top Atlanta Plumbers Share Leak Detection Tips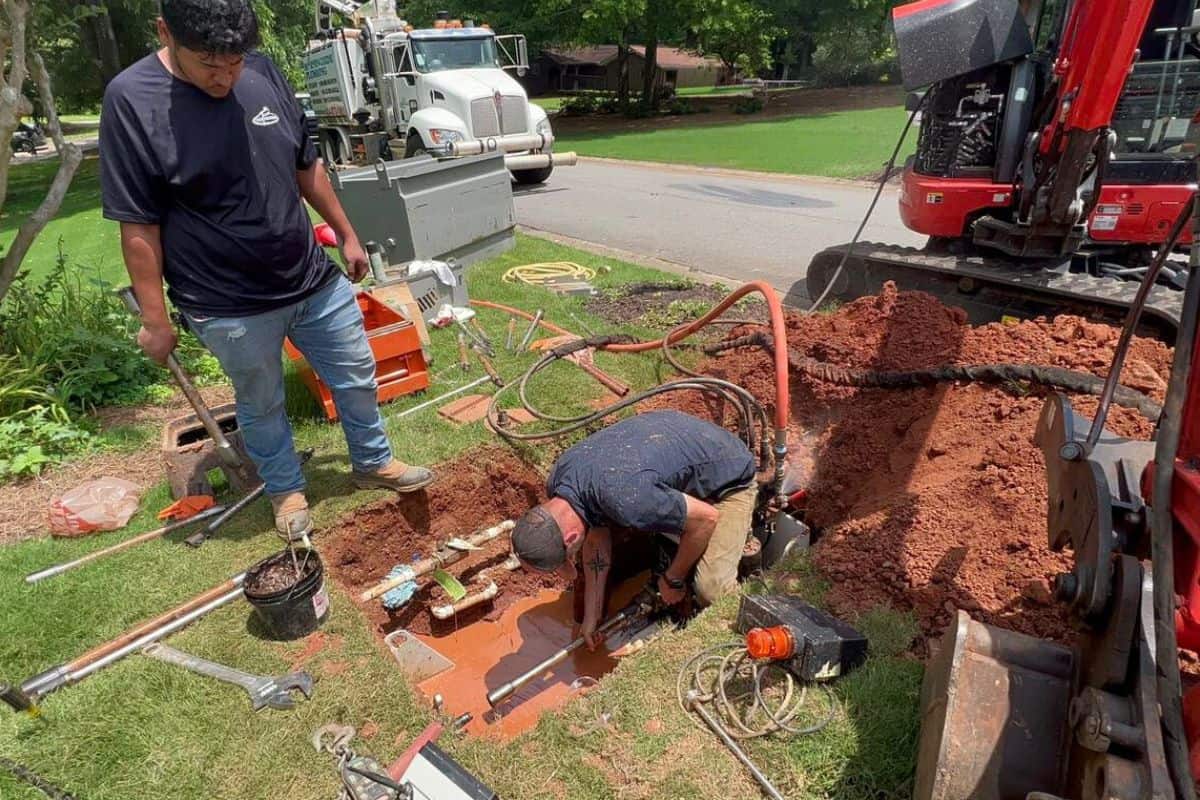 As a homeowner, it is essential to know some leak detection tips to keep your plumbing system in good condition. Start by turning off all water sources and checking the water meter to see if it moves while your water is off. If the meter moves, there is a leak somewhere in your system.
Periodically, do a visible inspection of appliances, pipes, and fittings for signs of moisture, mineral scale, corrosion, or rust. If you find inexpiable moisture, it is best to call a professional plumber to locate the water source. Also, contact a Morningside plumber to evaluate any new corrosion, scale, and rust spots on pipes and water heaters.
Modern leak detection equipment detects underground water lines or sewer leaks without digging. If you suspect a leak, it is best to address it quickly to avoid further damage to your property. Check your faucets regularly for leaks, as even a tiny leak can waste hundreds of gallons of water and cost you money.
If you have a leaky water line, it is best to hire a licensed plumber to repair it to avoid the risk of flooding. Additionally, if you hear extra water noise when turning off your plumbing, check your water pressure, as it may be too high. Finally, be aware of signs of pipe leaks under the floor, such as damp or discolored spots, musty odors, reduced water pressure or flow, or higher water bills.
Remember that plumbing leaks can cause significant damage to your home if left untreated, so it is essential to address them as soon as possible. Remember these tips to care for your plumbing system and prevent further complications. For more information, visit morningsideplumbing.com.
Plumbing Customer Questions And Answers Plumbers In Atlanta
Google a search term like Lenox-Park plumber near me, Midtown plumbers nearby, or plumbing companies around Morningside. It may help to add Atlanta to your search term. That way, your search engine results will not feature plumbing companies in other countries and states.
Where is the Morningside Plumbing service area?
As local plumbers, they serve Midtown Atlanta, including the following neighborhoods; Atlanta, Ansley Park, Avondale, Buckhead, Chastain Park, Decatur, Dunwoody, Druid Hills, Morningside – Lenox Park, Sandy Springs, Vinings, and Virginia Highland. The business address is 2175 Piedmont Rd NE #B-10, Atlanta, GA 30324. Contact these top plumbers at (404) 984-2090.
What forms of payment does Morningside Plumbing accept?
This affordable plumber near Atlanta accepts various forms of payment, including American Express, MasterCard, and Visa credit cards and debit cards and checks.
Are there any 24/7 plumbers available?
Yes, this local Atlanta plumber offers 24/7 emergency plumbing services. A team of experienced plumbers waits on standby to help you in case of a plumbing emergency.
Monday through Friday from 8:00 am to 5:00 pm and Saturday by appointment. After-hours and emergency services are 24/7.
Morningside Plumber Gets Another 5-Star Atlanta Plumbing Customer Review
When a plumber says, customer satisfaction guaranteed. It means they ensure customer satisfaction – guaranteed. When you work with this Midtown plumber, if you are not satisfied, they will work with you to make it right.
How is Morningside Plumbing rated?
This plumber has a solid reputation for superior quality in Atlanta communities. Customers consistently give them 5-star ratings and positive reviews. Recent customer reviews praise their professionalism, punctuality, quality, responsiveness, and value. Their excellent overall rating is due, in part, to exceptional customer service, professionalism, and work. In addition, this plumbing business has an A+ rating and is accredited by the BBB (Better Business Bureau). They often exceed customer expectations and have many long-lasting loyal customers.
Check some of our 5-star customer reviews. And in this blog post, we feature a few especially encouraging reviews.
Morningside Plumbing Over 50 Years Of Atlanta Plumbing Service Excellence
It's great to have a reliable plumber to call for all your plumbing needs. Fortunately, Morningside Plumbing offers a comprehensive range of services, including plumbing repairs such as drain cleaning and emergency water heater services. We also provide installation services for water heaters, septic tank pumping, trenchless services, gas line installations, and gas line repairs.
If you find yourself without hot water or in need of a new water heater, don't hesitate to call us for help. We are your trusted plumbing company for both commercial and residential plumbing needs. Call us (404) 984 2090 to schedule a repair appointment today.
To sum it up, Morningside Plumbing is the ideal solution for all your plumbing requirements in Atlanta, Midtown Atlanta, and surrounding areas. Our skilled plumbers are available to assist you with emergency plumbing, drain cleaning, commercial plumbing, and water line replacement. Contact us now to schedule a service appointment, and take advantage of our proficiency to meet your plumbing needs.
Get in touch with us now! We take pride in our 50-year service to Midtown Atlanta. As a family-run plumbing company, we prioritize being approachable and efficient in providing top-notch residential and commercial services. To book an appointment or avail of our round-the-clock emergency services, dial (404) 984 2090.