Looking For A Plumber Near Me Morningside-Lenox Park?
Are you sure you need to call a plumber in Morningside-Lenox Park? Doing your plumbing repairs can have many benefits. You can save money by not calling a plumber for a simple issue you can resolve.
Tips For Simple Repairs
You can also gain a sense of accomplishment by learning something new and completing tasks yourself. In this blog post, you will find a few ideas that you could find to be very handy.
Educate Your Family About Home Plumbing
The most important plumbing tip you need to know is straightforward. First, learn how to turn off your home's main water supply. Once you shut off the water, you can evaluate the plumbing problems and figure out how to resolve them.
Then, walk the whole family around the house to show them where all the water shut-off valves are and how to use them.
Teach your household how to notice plumbing problems. Many people manage plumbing issues without sharing that information with their families. That means many people grow up not knowing anything about plumbing.
Whenever you make a minor repair or notice a problem, call your family, and explain what the problem is and what you will do about it. Educate them so they can make good plumbing decisions in the future.
Toilet Plumbing Repair DIY That You Can Do
If your toilet is slow to flush, you can add regular white vinegar to the overflow tube. White vinegar helps the water from your toilet tank flow quickly, making the toilet flush faster. Before flushing, pour about a quart of the vinegar and let it sit there for at least an hour.
Check how well your toilets are flushing. For example, suppose you must hold the toilet handle down several times to flush. In that case, you may need to switch out some of the parts in your tank.
One of the most inexpensive plumbing issues to repair is a running toilet. Understanding how a toilet works is best to avoid a running toilet. You will be able to fix any running toilet in no time if you understand the operation of the floater and lever.
Tank parts may be the solution if you need to giggle the handle to stop your toilet from filling. When the water constantly runs to fill your toilet, it is not expensive to repair.
And this toilet repair can help lower your monthly water bill. It could also save you the embarrassment of having a broken toilet when you have guests.
Morningside-Lenox Park Home Plumbing Tips You Can Use
Check your water pressure if plumbing makes a hammering sound when you turn it off. Whenever your water pressure is above 80 PSI, you will hear extra water noise. High water pressure is easy to solve by installing a pressure-reducing valve, which most homeowners can do.
Look For Leaks
Periodically check your pipes for leaks and cracks. Since plumbing pipes are out of sight, you can forget about them. But looking for cracks and leaks, you can identify a minor plumbing problem before a big issue occurs.
Snake Your Drains
Using a snake tool to remove blockages is extremely easy. Just insert the tool a few inches into the drain, and then turn the handle to change the direction of the snake search and head for blockages. Continue moving the snake down slowly and searching until you find the blockage.
Home Leak Detection With Dye
You can try a fluorescent dye test before you call a professional plumber. For example, do this test if you have a leak and your water bill increases.
You can use dye to detect whether the leak is above ground, underground, or whether it has anything to do with the toilets. Then, use a blacklight flashlight to see even tiny spots of the dye after letting it run through your plumbing system.
Plumbers Help You Avoid Having A Burst Water Pipe in Atlanta
If you find that your plumbing pipes have frozen during a cold, freezing night, turn on all the faucets in your home. That lowers the water pressure when the pipes thaw and freely flow again. Make sure to open all your faucets, not just those frequently used.
Thaw Frozen Pipes
Use a hairdryer to help thaw frozen pipes after shutting off the water to the house. A hairdryer will gently heat the plumbing pipe and melt the ice without causing significant damage.
Shut off the water first so that if the pipe malfunctions, there will be no flood of water into the house. A burst pipe can send you looking for water damage restoration services in a hurry. Plumber near me Morningside-Lenox Park at Morningside Plumbing will come to the rescue.
Check Outside Spigots
Ensure that your faucets outside around Atlanta are not dripping or leaking when it gets cold out. You need to move quickly to repair it, lest the faucet cracks if you find a problem. If your pipes are steel or plastic, it expands and will crack the pipes when water freezes.
It does not matter. Even a tiny crack is capable of releasing enough water to damage or flood your home.
Home Kitchen Sink Service Tips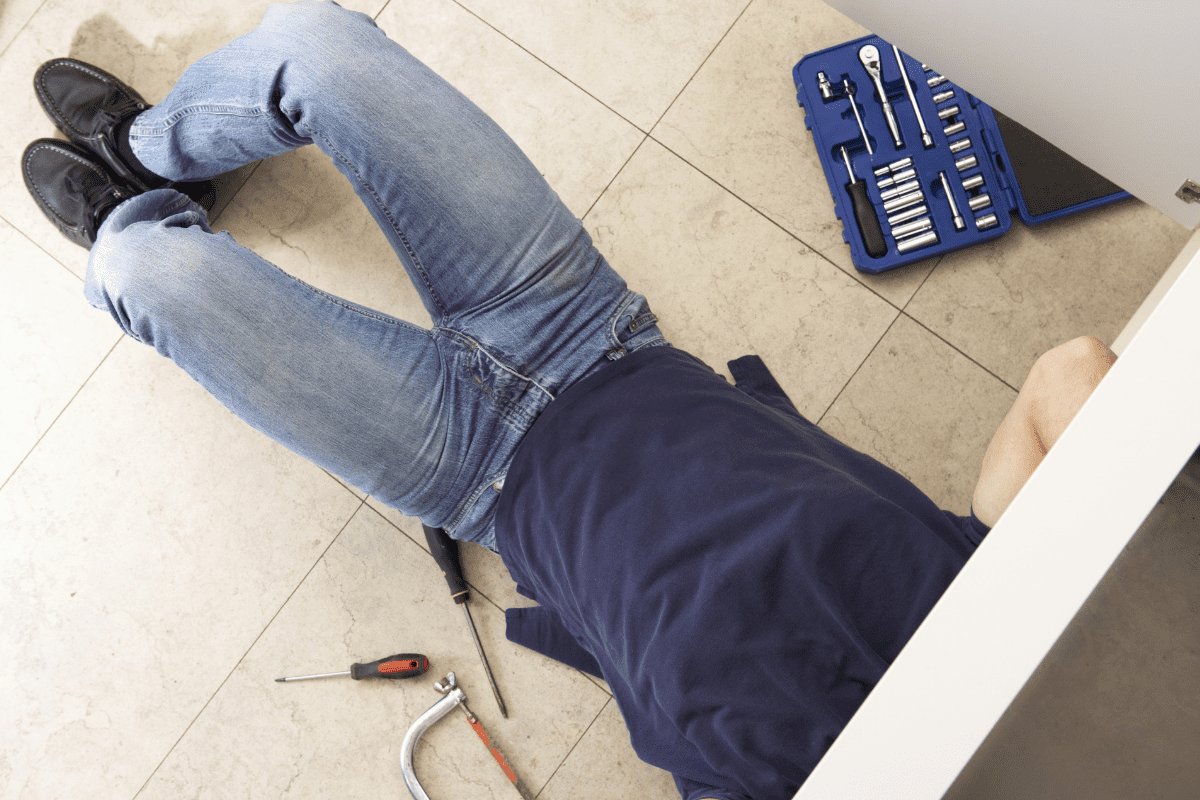 To prevent one of the most common reasons to call a plumber is easy. Kitchen sink clogs are usually due to putting solid foods down your drain. Many foods, such as eggs, vegetable scraps, and fruit waste, actually harden with exposure to cold water.
And over time, it can form clogs that are next to impossible to remove without Morningside Plumbing's professional drain cleaning services.
To avoid water damage to walls in the kitchen, make sure to seal all seams in your countertops and backsplash using waterproof silicone.
Silicone will dry out over time, so replace it once every couple of years. Keeping your silicone in good shape will keep kitchen spills easy to manage and not run down the walls.
Read Reviews
The key to finding a great plumber for your home or business is to look at their prior jobs. Good plumbers take pride in their work. If the plumber you consider hiring does not have reviews or photos of previous jobs, then stay away and find another.
Listen While You Work
If you are the kind of person who listens to music when you work, you should be sure to avoid using headphones when doing plumbing projects. Instead, playing music on a device without wearing headphones is a much smarter choice.
That will allow you to hear the music you want to hear without distracting you from hearing essential plumbing sounds.
You Got This
There is no doubt that many of the standard plumbing maintenance and repair jobs that need doing are things you can do.
However, you need to adopt a cautious and methodical approach. Do not rush anything or take chances, and you will be fine.
Call Us At Morningside Plumbing (404) 984 2090
But when you need the best plumbers in Atlanta call us. Morningside Plumbing is ready to help you today in Morningside-Lenox Park. Our plumbing business is local, family-owned, and operated. Our clients are residential and commercial.
We are water heater service plumbers you can count on for 24-7 emergency plumbing services. Our plumbing experts manage everything from tankless water heater repair to water heater replacement and more. Schedule an appointment now at (404) 984 2090.