The top plumbers Miltown Atlanta residents use over and over is Morningside Plumbing. They are an excellent choice if you are looking for the best plumbers near you in Midtown. They are known for providing top-notch services without pressure or scare tactics to secure business. Morningside Plumbing serves Atlanta neighborhoods and offers Midtown customers free estimates. In addition, their local plumbers are reachable at (404) 984 2090, and they come equipped with the finest tools and equipment to handle your plumbing needs.
Morningside Plumbing has earned a reputation as one of the best plumbers in Midtown and Metro Atlanta, providing fast and affordable service. We handle all residential, commercial, bathroom, and kitchen plumbing needs. Bathroom plumbing services include toilet repair and installation, and shower installation. Pipe repair and trenchless services are popular around Midtown. Find more information about their services, read customer reviews, and get tips.
Why Do Midtown Atlanta Homes and Businesses Need Plumbing Repair Service?
What are the most common reasons Midtown homes and businesses need plumbing repair services? Our local plumbers in Midtown Atlanta say that they see some of the same plumbing issues almost every day. To address these common plumbing issues, Midtown residents and businesses can rely on local plumbing experts at Morningside Plumbing, who offer various services, such as drain cleaning, water heater repair, and gas line repair. Here are the top 7 reasons Atlantan's need a plumbing repair.
Top 7 Most Common Reasons For Midtown Plumbing Repair Service Calls
1. Clogged drains: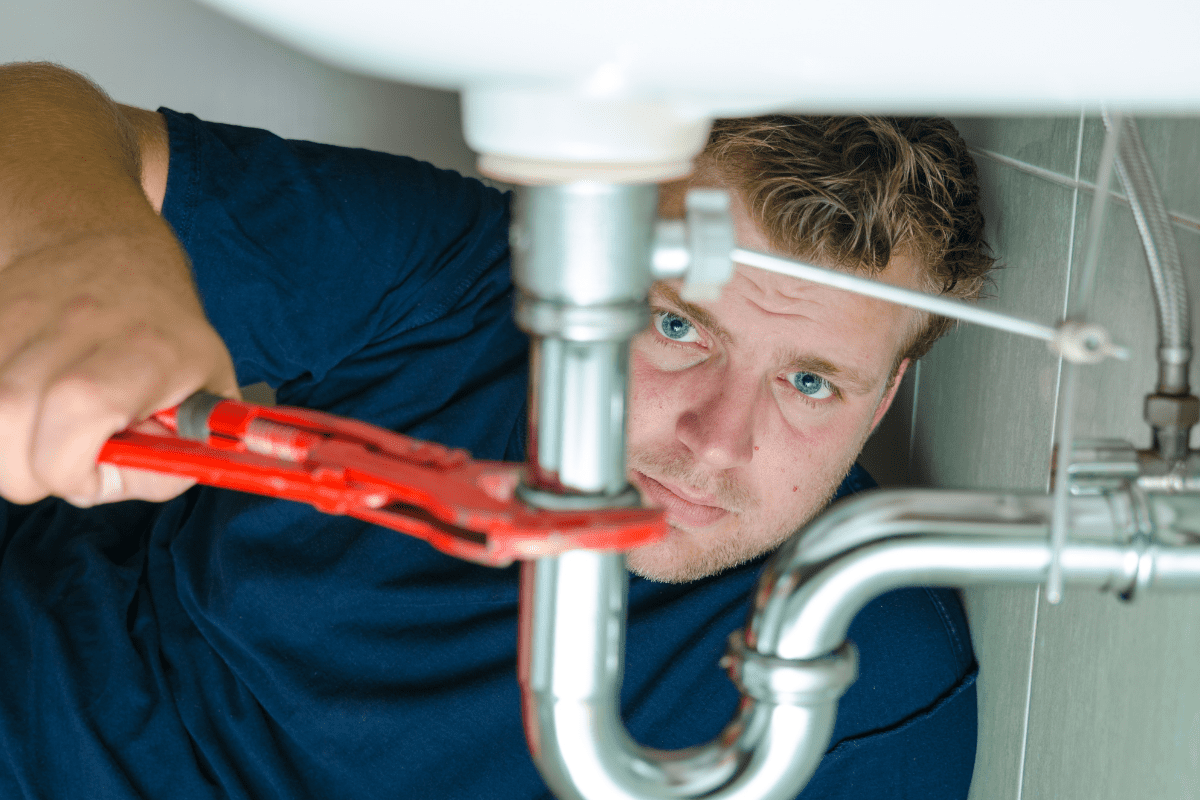 Clogged drains can occur due to the buildup of hair, grease, and other debris in plumbing pipes. And that can lead to slow draining or complete blockages. Morningside Plumbing in Atlanta offers professional drain cleaning service to effectively clear out any obstructions and restore proper flow to your drains. Using advanced equipment and techniques, their skilled plumbers address the root cause of the problem and prevent future clogs from forming.
2. Leaky faucets and pipes:
Leaky faucets and pipes can be caused by worn-out washers or seals, leading to wasting water and detrimental water damage. Morningside Plumbing's experienced plumbers detect and diagnose leaks. They quickly determine the cause and find the location leaks. Then, skilled Morningside plumbers provide prompt repairs or replacements as needed. By addressing leaks promptly, you can stop wasting water and avoid further damage to your property.
3. Water heater service: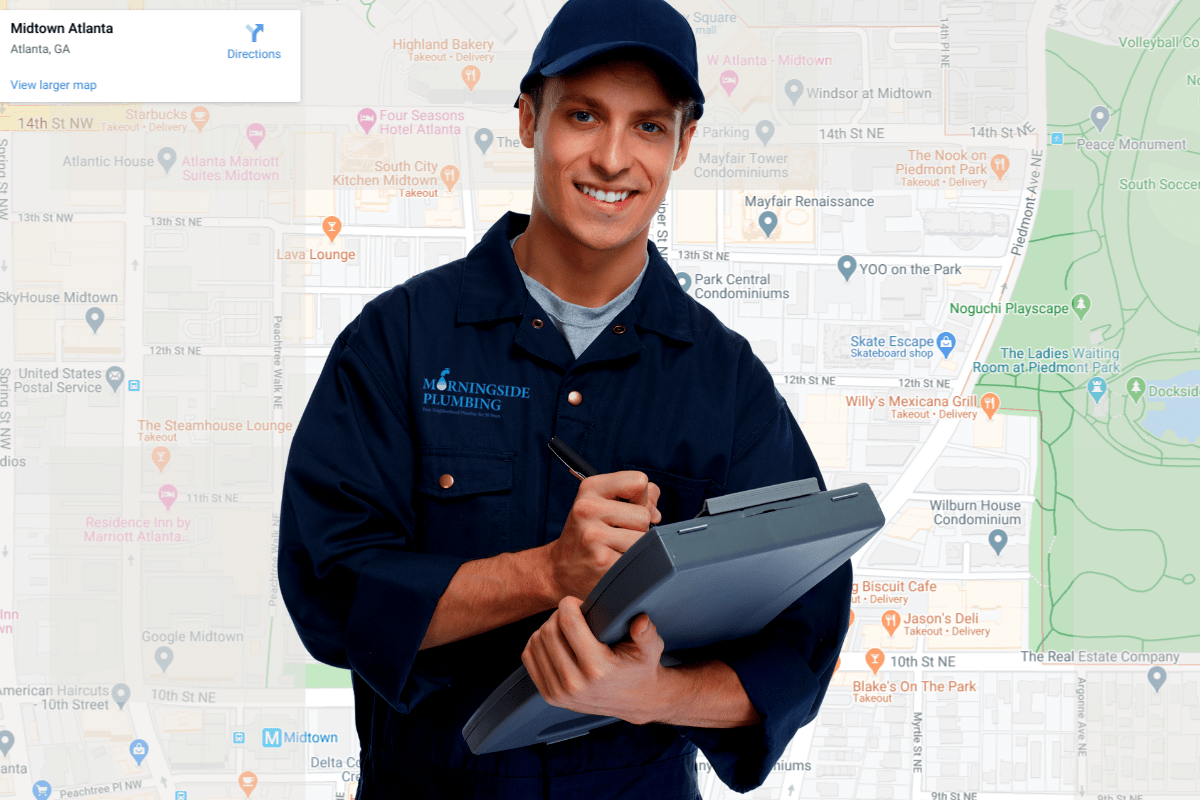 Conventional tank water heaters will eventually develop various problems. The common issues include insufficient hot water, tank leaks, and sediment buildup. All of which affect a water heater's performance and reduce its efficiency.
Morningside Plumbing in Atlanta resolves these water heater issues and others. We are local Midtown Atlanta plumbers that offer comprehensive water heater services.
Our services include water heater installation, repair, and maintenance service. In addition to tankless water heater installation and repair service. When water heaters stop working, we offer fast emergency installation services. And for gas water heaters call us for gas line repair and installation services.
Expect an expert plumber to arrive on time, diagnose the problem easily, and recommend appropriate solutions. A Morningside plumber will perform the necessary work to ensure your water heater functions efficiently and reliably.
4. Running toilets:
Running toilets tend to drive people crazy. Let our toilet repair pros stop the insanity in your home or business. Toilets run due to faulty flappers, broken fill valves, or other issues that we repair. When a toilet runs the continuous water flow increases water bills. Morningside Plumbing's experienced Midtown plumbers in Atlanta can diagnose and fix any toilet issue. Get the necessary toilet repair services to stop your running toilet today. Ensuring that your toilet functions efficiently and conserves water is what we do.
5. Low water pressure: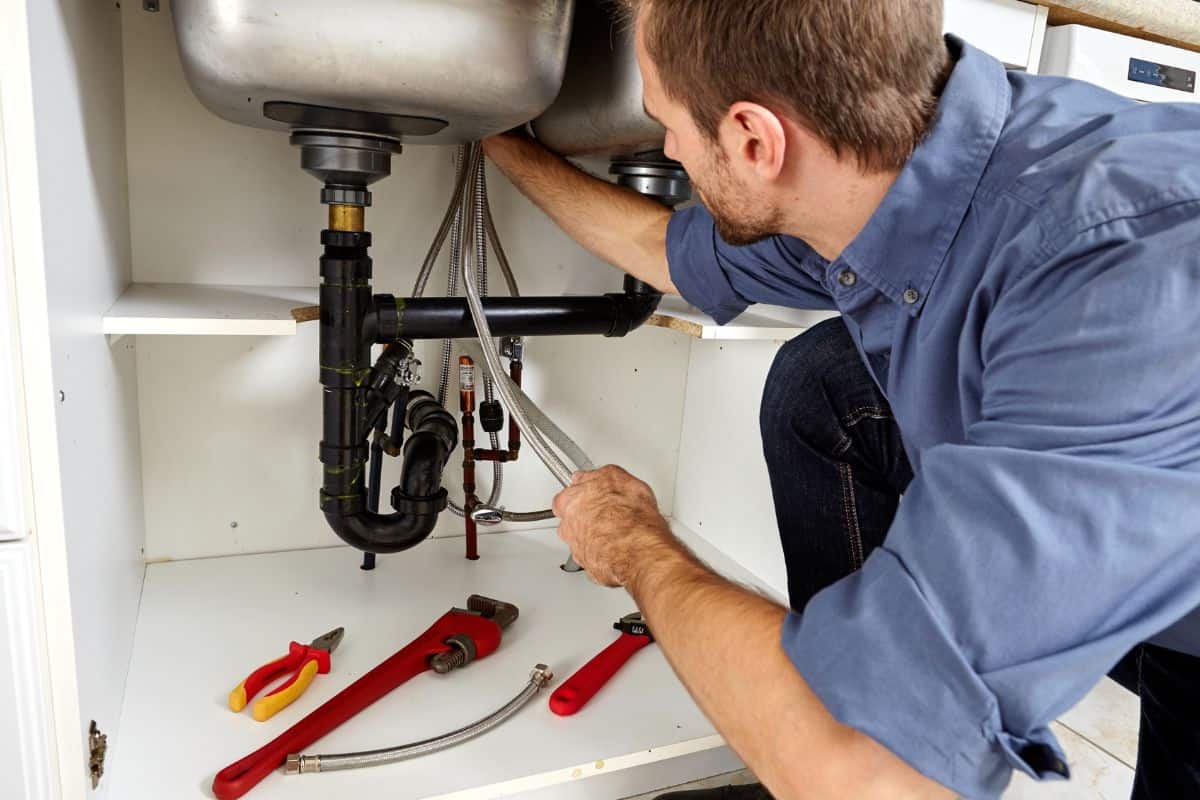 Low water pressure in faucets and showers is something to complain about. But what can you do about it? Morningside Plumbing professionals will identify and address the root cause of low water pressure. You may have plumbing system mineral buildup, pipe corrosion, or a major leak. Call the professional plumbers to restore optimal water flow and ensure your satisfaction.
6. Sewer line problems:
Tree roots or other obstructions can cause sewer line problems. For example, sewer lines can develop blockages allowing sewage to backup. Underground sewer lines also can suffer damage creating leaks. Sewer line leaks smell unpleasant and present real health hazards. Sewer line repair and replacement does not need to be messy and expensive anymore.
Morningside Plumbing provides comprehensive trenchless sewer line repair and water line repair services. These include HydroVac service, pipe lining, trenchless pipe bursting service, hydro excavation, and other no-dig methods.
We are the trenchless experts to effectively clear and repair any sewer line issues. Our trenchless sewer line repair is the fastest way to end sewer problems safeguarding your property and health. Do you need help with sewer and water lines on your property? You can trust the team Morningside Plumbing for reliable, safe HydroVac excavation.
7. Gas line repair service:
Gas leaks, damaged lines, or improper installation can pose safety risks and require immediate attention from professionals. Morningside Plumbing's experienced plumbers are available 24/7 to assist with gas line repairs and ensure the safety of your home or business. They have extensive experience in handling gas line installation service. And they will efficiently resolve any gas line concerns while prioritizing your safety.
How to Hire a Local Midtown Plumbing Company for Atlanta Plumbing Service
Plumbing issues can arise at any time, causing inconvenience and stress. When faced with such problems, finding a reliable plumber to fix the issue promptly and professionally is crucial. Hiring a plumber in Midtown may seem daunting. Still, you can find the perfect professional for your plumbing needs with the right approach and consideration. This guide will discuss essential steps to follow when hiring a Midtown Atlanta plumber for plumbing work.
Seek Recommendations
Ask friends, family members, neighbors, and colleagues for recommendations. Personal referrals are an excellent way to get trustworthy suggestions for plumbers who have provided satisfactory service. You can also search online for reviews and testimonials from previous customers to gauge the reputation of a plumbing company.
Research and Compare
Once you have a list of potential plumbers, research each to ensure they have a proven track record of delivering quality work. Next, visit their websites and social media pages and read reviews from previous clients. That will help you discover the experience and expertise of each plumber, making it easier to compare their services and choose the right one for your needs.
Request Multiple Quotes
Before deciding, request quotes for the work you need. Do not base your decision on price only. Selecting the lowest quote may not be the most affordable solution. For example, sometimes, a cheap plumber near me cannot adequately repair your plumbing problem.
On the other hand, a high quote does not mean, on its own, that you will get superior plumbing service. However, you indeed get what you pay for with any home service professional. Also, remember that quality technicians and plumbing professionals will have the best tools and equipment. And that is critical for shortening the time to complete plumbing work.
So, a plumbing company quote should include several elements. Specifically, the plumbing quote needs to detail the scope of work and estimate the time necessary to complete the job. Also, expect a plumber's quote to have price estimates for labor and equipment. Warranty information should be part of a quote as well. Often prices are in a range as they relate to good, better, best material selections.
The highest quote may not be cost-effective either because you believe the more you pay, the better the plumbing. That will give you an idea of the average cost for the plumbing work you require and compare each company's pricing and services. Be sure to ask any questions after reading a detailed quote. Following this plumbing tip will help you make an informed decision when you need to hire a plumber.
Evaluate Communication and Responsiveness
Good communication is vital when working with a plumber. Choose a professional who is responsive to your calls and emails and takes the time to explain the plumbing problem and the necessary repairs. Hiring a plumber who listens to your concerns and addresses them promptly is also essential.
Look for Experience and Expertise
An experienced plumber will have encountered and resolved various plumbing issues. When hiring plumbers in Midtown Atlanta, please find out how long they have been in the business and what types of plumbing work they specialize in. That will help you determine if they have the skills and expertise required for your plumbing needs.
Consider the Warranty
A reputable plumber will stand by their work and offer a service warranty. Find out what kind of warranty is provided by each plumber you are considering, and choose one that offers a good guarantee. That will ensure that after the job if any issues arise, the plumber will address them without additional costs.
Local Plumber, Morningside Plumbing, Serves Atlanta
Hiring a Midtown Atlanta plumber for plumbing work doesn't have to be a challenging task. By following the steps in this blog post and doing thorough research, you can do it. Take the time to find a reliable plumbing company to efficiently repair your plumbing. Remember, it's essential to choose a professional who provides excellent customer service to ensure a positive experience. Are you ready to experience the best Morningside plumbing service? Contact us online now or call (404) 984 2090 to get a quote.