Plumbing Atlanta residents know is essential. However, most people do not pay much attention to it. And they take it for granted that their plumbing will work when needed. Plumbing systems usually work, but you need a trustworthy plumber when they do not. One with the tools, skills, and professionals to return your plumbing system to working order.
Atlanta Plumber For Residential Plumbing Repair Services
Are you looking for reliable plumbing services for your home in Atlanta? Look no further than Morningside Plumbing. We offer residential plumbing services, including toilet repair, water heater installation and repair, drain cleaning, and leak repair. When you hire our professional plumbers, expect exceptional service to ensure your satisfaction.
Our home plumbers also provide emergency plumbing, remodeling, faucet repair and replacement, and total home repiping. Our comprehensive list of services also includes drain cleaning, sump pumps, water heaters, and sewer jetting. Additionally, we offer video sewer inspections, hydro vac service, and sewer line repair and replacement.
At Morningside Plumbing, we are committed to providing affordable and high-quality service to our customers. If you need residential plumbing services in Atlanta, please call us. We guarantee that one of our professionals will complete the services you need to your satisfaction. Contact us today to learn more about our services and our team.
Morningside Plumbing Commercial Plumbing Services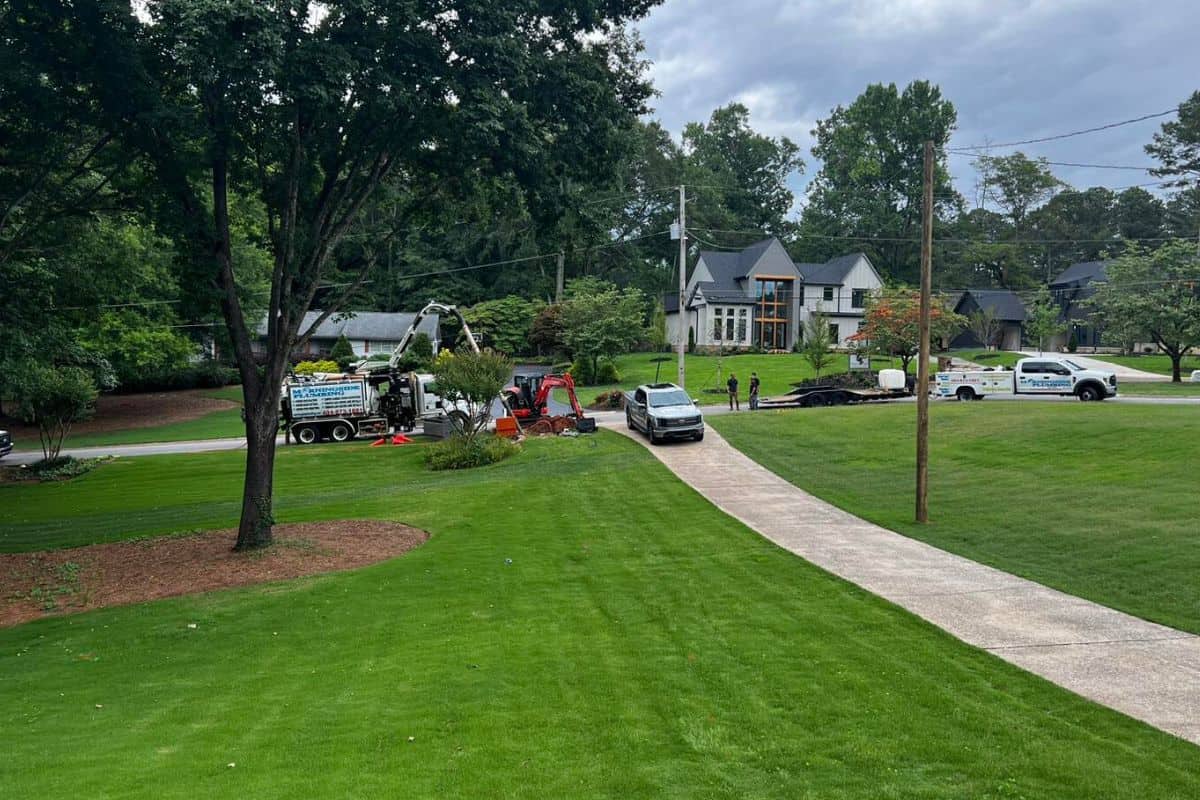 If you are a business owner in Atlanta needing plumbing services, look no further than our team at Morningside Plumbing. We have years of experience as a top commercial plumber in Atlanta. Our customers are Midtown, Sandy Springs, and Atlanta businesses. And our professional team of experienced plumbers can handle any project, big or small. We do it all, from new construction projects to renovations and repairs.
You need a professional plumbing company to understand the importance of fixing plumbing issues quickly and efficiently. And our team understands that. That is why we offer 24/7 emergency plumbing services for commercial properties. Our services will meet your needs, whether you need backflow testing and prevention, drain cleaning, grease trap installation and repair, hydro jetting, new construction plumbing, plumbing repairs, sewer line repair and replacement, or water heater installation and repair.
At Morningside Plumbing, we are committed to providing affordable and high-quality service to our customers. Do not hesitate to call us for all your commercial plumbing needs. Contact us today to learn more, get a free quote, or schedule an appointment.
Trenchless Water Line, Sewer Line, and More Plumbing Services
Our plumbing services offered underground consist of the following:
Traditional trenching sewer line replacement methods are destructive and can muddy your landscaping. Trenchless sewer line replacement is a more localized fix that uses spot digging. The technique eliminates the need for extensive lawn-damaging excavation.
Morningside Plumbing offers several trenchless no-dig solutions for residential and commercial customers. Different situations will suit one of two types of trenchless methods. These are pipe lining and pipe bursting. The former involves inserting a flexible tube coated with a resin material into the hole, which then hardens to create a new pipe inside the old one. The latter requires pulling a new line through the old broken one, causing the old pipe to burst apart.
Our professional plumbers use trenchless techniques for home and commercial sewer line repair, replacement, and installation. In addition, we also perform trenchless water line replacement, repair, and installation. But that is not all we can do. Our trenchless projects include Hydro-Vac excavation services and hydro jetting services as well.
Learn More About HydroVac Services
Morningside Plumbing offers HydroVac services for sewer line replacement in Atlanta. Our experienced team and vac truck allows us to dig quickly without destroying your lawn. HydroVac is a safe, eco-friendly option that eliminates the risk of damaging underground utility lines. Contact us today to schedule HydroVac services and enjoy a better, faster, safer, and cleaner sewer and water line replacement.
HydroVac is perfect for commercial and residential applications, including hole piling, potholing, trenching, and drilling. Choosing a company with experience using a vac truck is essential to ensure the best results. At Morningside Plumbing, we will inspect your water or sewer line to determine if HydroVac is the proper method for you. Scheduling an inspection before any issues arise can help prevent a plumbing disaster.
HydroVac Benefits
Using Midtown Atlanta HydroVac can save you both time and money. Unlike traditional excavation methods that can take an entire day, HydroVac completes the task in just a couple of hours, thus reducing labor costs. Additionally, HydroVac is the safest choice as it eliminates the risk of damaging underground utility lines.
It also provides more precise digging, which minimizes damage to your yard and eliminates the need for unsightly piles of dirt and mud. Finally, Midtown Atlanta HydroVac is an eco-friendly option that uses only water and air without any toxic chemicals, which makes it a green choice for those who want to protect the environment.
At Morningside Plumbing, we have the experience and equipment to complete the job correctly, ensuring that your underground plumbing functions correctly. We will comprehensively report our findings and suggest any necessary repairs or replacements.
Emergency Plumbing Services in Atlanta
Call your Atlanta emergency plumbers at Morningside Plumbing if you have a plumbing emergency. Afterward, follow these steps to minimize any damage. If you have a burst pipe, turn off the main water valve. Move furniture or other objects close to the leak to prevent damage. Dry out wet things and ventilate the house to avoid mold or mildew growth. Wait for your emergency plumber to arrive.
Hire Morningside Plumbing for your emergency plumbing needs today. If you are dealing with a leaky water line or any other sewer line issue, do not hesitate to contact a qualified local plumber. Morningside Plumbing in Atlanta specializes in water line repair and sewer line. repair, using the most innovative and high-tech equipment and machinery. Their trenchless sewer repair technique is fast, safe, and does not. require extensive digging, leaving your yard intact. Plus, it can correct anything from minor cracks to distorted sewer lines with comprehensive material loss.
With Morningside Plumbing, you can rest assured that your sewer line is located and repair or replacement job is in capable hands. Our professional plumbers approach every job with care and expertise. Contact them today to experience their exceptional service for yourself.
Drain Maintenance Tips
Here are some helpful tips to keep your plumbing and drains in good condition:
Avoid putting grease or oil down your kitchen sink drain, as it can cause a backup in your pipes. Instead, wait to cool and solidify before throwing it away or recycling it.
Pour a gallon or two of water into infrequently used drains and fill the trap to prevent unpleasant odors from entering your home.
If a sink, tub, or toilet drain is clogged, use a plunger and hot water before using a plumbing snake or auger.
Avoid using chemical store-bought drain cleaners, which can damage your pipes and kill essential bacteria.
Once a month, mix equal parts of baking soda and vinegar down your bathtub drain, followed by boiling water to clear any soap scum, hair, or grime buildup.
Prevent drain clogs by installing drain screens on all drains to minimize the debris that enters your plumbing system.
Morningside Plumbing Is The Reliable Atlanta Plumber
When it comes to plumbing, you want to ensure you work with the best. That is where Morningside Plumbing comes in. With 50 years of experience, we can handle any plumbing issue. Our professional plumbers can do everything from drain cleaning services to emergency water heater repairs. You can trust Morningside Plumbing to manage all your residential and commercial plumbing needs. Do not hesitate to call 404-873-1881 to schedule an appointment for a repair today.