Atlanta HydroVac excavation moves earth without making a mess. But what is Atlanta HydroVac from Morningside Plumbing? You can avoid destroying your yard when you need sewer and water line replacement. Discover a safer, cleaner, faster alternative – HydroVac.
With HydroVac, you need not dread getting that sewer or water line replacement project started. Why? Because there is no need to dig up your yard to do the job. Digging can leave behind a mud pit that takes time and money to repair. Fortunately, that is not your problem with HydroVac.
Now, with Morningside Plumbing, there are better options. Innovative HydroVac excavation is a faster, safer, and cleaner alternative to old school digging. Keep reading to explore the benefits of the HydroVac excavation method to decide if it is right for you.
How Does HydroVac Excavation Work?
It is hydro excavation – using high-pressure water to loosen the soil and dig a hole. The wet, muddy excavated dirt goes into a tank, mounted on a hydro excavator truck. The dirt we suck up will go to a dump offsite. The technology allows for precise excavations, with less backfill, and less labor. It causes significantly less environmental damage than digging. And most importantly, hydro excavation does not damage buried utility lines.
So, HydroVac is a safe process that uses high-pressure water streams to remove dirt. Combined with a truck air vacuum, the high-pressure water liquefies and removes soil for sewer and water line installation. Our ultramodern vac truck makes all this possible. The truck holds the water and the excavated soil.
Sewer Line and Water Line Replacements Made Easy
Sewer line replacement and installation, and water line replacement and installation with traditional trenching and digging are messy. Your lawn, landscaping, and yard will be a disaster. So, after your sewer or water line replacement, you must repair your lawn. Learn how to avoid a sewer line replacement. Rely on us for plumbing services near me.
Repair Underground Plumbing Lines And Protect Your Property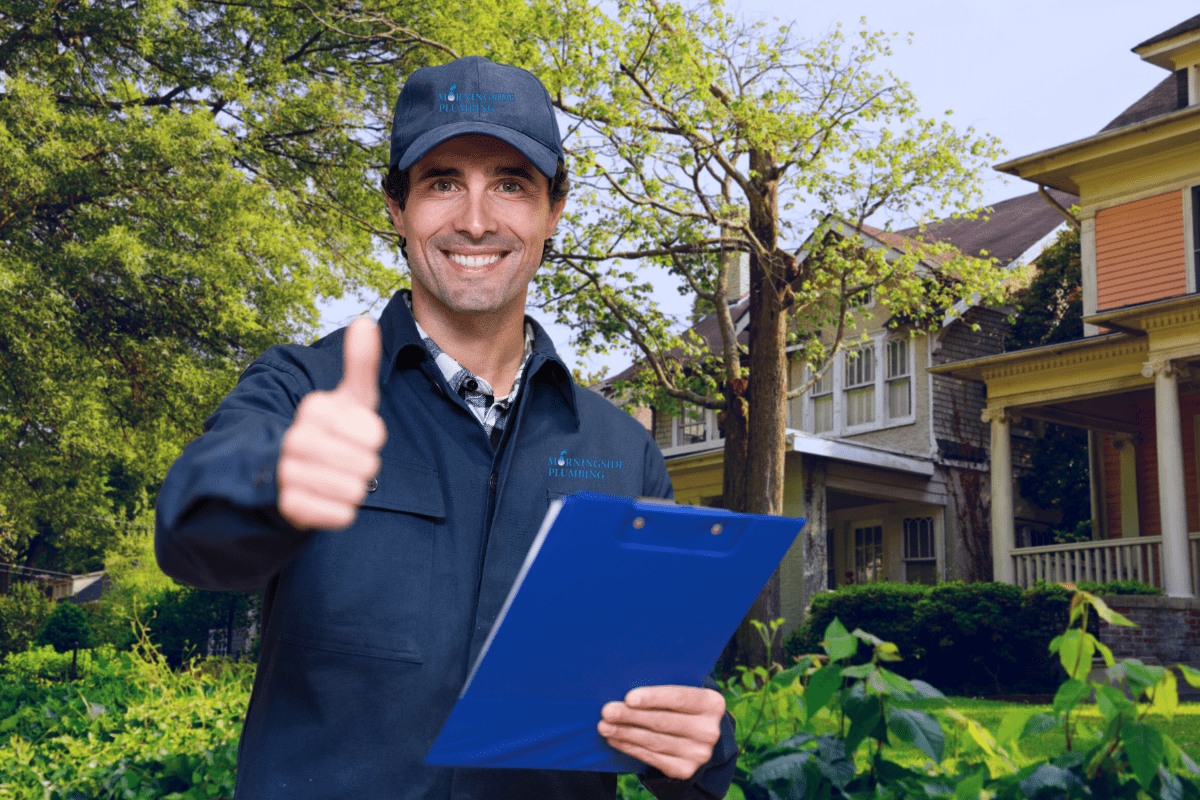 We know how expensive landscaping can be to replace. That is why we offer less invasive ways to repair underground plumbing leaks with minimal disruption. Not only are our methods faster, and neater, but also affordable. You spend less money and have less mess to deal with. So, it is a win-win for everyone.
With HydroVac services, you can get sewer and water line replacement without widespread landscaping damage. HydroVac service keeps your property tidy and safe during and after installation. Excavation meant spending thousands of dollars repairing and replacing the landscaping in the past. HydroVac does the job while protecting your property. Contact us for the most modern sewer and water line replacement services.
When Should You Choose HydroVac Excavation?
Choose Morningside Plumbing. We have vac truck experience. HydroVac is ideal for commercial and residential properties. Our HydroVac truck is excellent for potholing, hole piling, drilling, and trenching. Morningside Plumbing will complete an inspection of your sewer or water line to decide if the method is best. Scheduling an inspection before a sewer or water line problem will help you prevent a plumbing disaster.
What Are the Benefits of Hydro Excavation?
Atlanta HydroVac offers many benefits to home and business owners. Morningside Plumbing HydroVac vacuum trucks provide service area coverage to Fulton, DeKalb, and Cobb County. Contact us for service. Contact the best plumber near me Atlanta.
Save Money On Excavation Services
While traditional digging can take a full day's work, HydroVac completes the same task in a few of hours. So, there are fewer plumbing labor hours to pay for and you save money.
Do Not Cut Gas Utility Lines
Without trenching and digging, do not worry about cutting underground utility lines. Shovels cause over 75 percent of utility line accidents. Unlike shovel digging, HydroVac is the safest choice and poses no threat to your utilities.
Be More Exact With Hydro Vac
Because vacuum trucks are precise, you will minimize damage to your yard. Our vacuum trucks provide you with a new no-dig alternative to trenching.
Less Mess When You Choose Hydro Excavation
No more ugly mud pits or huge unsightly mountains of dirt in your yard. The vacuum trucks remove all the dirt.
Be Nicer To The Planet With Hydro Vac
Atlanta HydroVac is the best way to dig for the environment. It uses no toxic chemicals—only water and air—and does not damage trees and other plants in your yard area.
Additional Excavation Services
Debris Removal Services
Commercial soil and debris removal services for construction sites remove and haul away debris. We can hydro vacuum dirt without damage to surrounding area.  And it is safe without the need for heavy equipment like bobcats or excavators.
Utility Line Potholing and Daylighting
Slot Trenching
Detention Pond Cleaning
The Dependable HydroVac Contractor in Atlanta
Morningside Plumbing now offers HydroVac services for sewer and water line replacement for your Atlanta home or business. Our customers get fast, effective services without the unnecessary destruction of their lawns. With our highly trained team and vac truck, we quickly excavate so you can return to life as usual.
Hydro Excavation Is Faster, More Affordable And Less Messy In Atlanta
If you are ready for quicker, better sewer line and water line replacement, call on the team at Morningside Plumbing. We are also here to answer your questions and give you a quote. Contact us online now or call us at (404) 991 2128 to schedule HydroVac today in the Atlanta area.