What happens when you need water line repair in Atlanta, Georgia?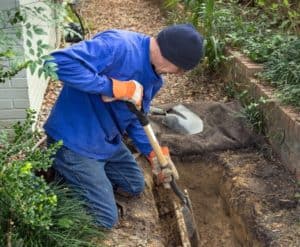 Do you need water line repair in the Atlanta, Georgia area? If so, call Morningside Plumbing right away to repair your water line and minimize the damage.
Owning a home can be a lot of work. It is vitally important to keep up on your home's maintenance and seasonal precautions. One of the most damaging things that can happen to your home is a burst or cracked water line. If you have a broken water line, you must call a plumber to repair it right away. The sooner the repair happens, the less likely you will have further damage to your home and possessions.
What Steps Do I Take if I Have a Broken Water Line?
When you have a broken water line, there are a few immediate steps to take to limit the damage. The first step is to stop the water. Turn off your water supply immediately using the lever on the water main.
Once the water is off, drain all the water pipes in your home. To do this, turn on the cold water on each of your faucets. Then flush each toilet at least once. Finally, shut down the water heater and run each sink on hot until the water stops flowing.
Once you have completed these steps, the leak should have stopped for the moment. At this point, you can take a look at the pipe and observe the damage. The next step is to have a plumber come out for repairs. Get in touch with a reputable plumber like Morningside Plumbing to handle the problem. Remember, a poor repair job could lead to more burst pipes down the road.
How Will a Plumbing Company Repair My Broken Water Line?
Once your plumber has identified the location and severity of the problem, they will either patch or replace the area. Industrial tape or chemical bonding agents are ideal for small repairs. Larger cracks or ruptures may require replacement of a portion of the pipe. This is where the expertise of a trained professional plumber is especially valuable. Sometimes the least expensive option is best, but if not, it's not worth saving a buck if your home or yard ends up flooded all over again!
What Should I Do Once My Plumber Has Finished the Repair?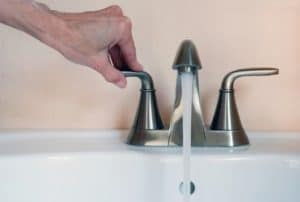 Once your plumber has finished repairing or replacing the problem in your water line, it is time to turn your water and water heater back on. Test each of your faucets and toilets to look for additional leaks.
It is also important to thoroughly dry out any water-damaged areas to keep mold from developing. Some people even hire a professional drying crew to ensure the job is complete. However you do it, make sure you dry all flooded areas. Mold is not something you want to add to the list of issues in your home.
After completing these steps, you can rest easy knowing your home and water lines are back in working order.
If you have a ruptured or cracked water line, call Morningside Plumbing to get a thorough and proper repair of your water line. You can rely on our family-owned and operated business to give you the same great care we have been providing in the area for over 50 years.