The sewer line repair Morningside needs is trenchless. that is because having sewer problems is frustrating enough on its own. But imagine how much worse it gets when plumbing pros tell you that you need a new sewer line, and they will need to dig a trench straight through your lawn from the street to your house. Say goodbye to the lovely yard you put time, money, and sweat into getting right. A deep, muddy, messy trench from your house to the street will be necessary to replace your damaged sewer line. The charge to dig it will be a lot because digging a trench to access a sewer line involves using extensive, heavy, expensive equipment, not to mention the time it takes to dig a trench like this. It will take a while, I can assure you.
At Morningside Plumbing, we understand the anxiety and stress that can arise from having sewer line troubles. Fortunately, with technical improvements, trenchless sewer repair services have revolutionized how we can address sewer issues.
Please keep reading to learn more about how trenchless sewer repair works and what benefits you get from using our trenchless sewer repair service.
How Do Trenchless Sewer Repair Plumbing Services Work?
Trenchless sewer repair is an ingenious technique for sewer line repair that eliminates the requirement for extensive excavation and disturbance to your property. Rather than conventional trench digging, our trained technicians use state-of-the-art methods that minimize the impact on your terrain and save you time and money. That means we will not dig a long trench through your yard from the house to the street.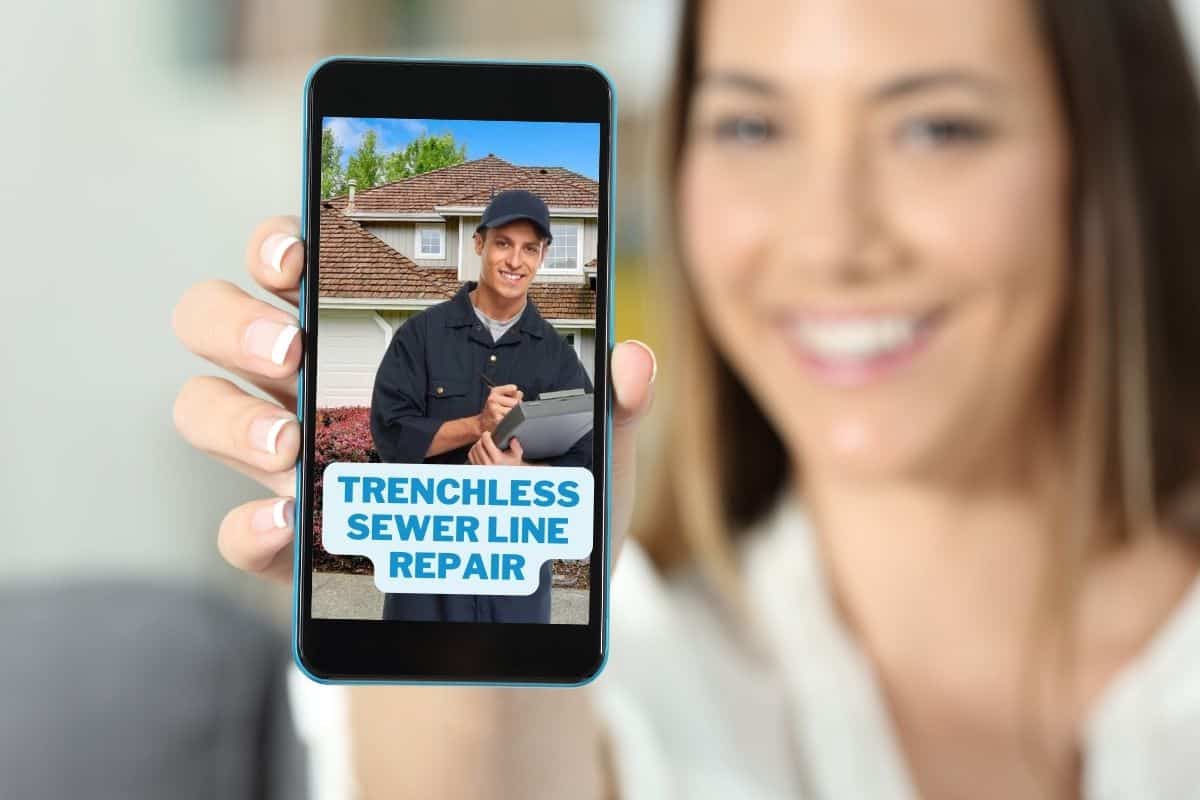 The service starts with a thorough inspection of your sewer line. We use state-of-the-art sewer video camera technology. It lets us see the specific location and nature of the trouble. Whether your sewer line has a crack, a blockage, tree root intrusion, or something else causing the need for repairs.
Another option is trenchless pipe bursting service. This service installs a new pipe by bursting the existing damaged line. A specialized bursting head bursts through the current pipe, breaking it apart while simultaneously pulling the new line into its place. This method perfectly replaces severely damaged or collapsed sewer lines beyond repair. So, you have options when it is time for sewer or water line repair. And a skilled plumber will explain your line problem to you along with possible repair actions.
What Benefits Can I Expect from Trenchless Sewer Line Plumbing Service?
Now that you know how trenchless sewer line repairs work, you may wonder how it may benefit you. When you choose Morningside Plumbing for your trenchless sewer line repair, you can expect professionalism, expertise, and quality service. Here are some of the other benefits you can expect from trenchless sewer line repair:
7 Ways Trenchless Sewer Line Repair Service Can Benefit You
1. Our Trenchless Methods Are Minimally Invasive So Your Lawn Stays Intact.
With trenchless sewer repair, we minimize disturbance to your property and routine. It requires only a small access point, diminishing the impact on landscaping, driveways, sidewalks, and other structures. That is highly beneficial in city areas where limited space and excavating trenches can be difficult or disruptive. Our techniques will leave your landscape untouched without expansive digging or rehabilitation needed.
2. Trenchless Sewer Repairs Are More Affordable Than Traditional Trenching.
Trenchless sewer repair not only saves you time and annoyance, but it can also be a cost-effective choice. Avoiding extensive digging and lowering labor can save on repair costs and any potential property restoration.
3. Trenchless Sewer Repairs Are Faster Than The Old Technique.
Trenchless repair approaches take less time than traditional excavation processes. Without extensive trenching, we can significantly reduce the required repair time, leading to faster project completion.
4. The No-Dig Techniques We Use Preserve Existing Structures And Minimize Rehabilitation Necessary.
Traditional sewer line repair service damages and disrupts everything in the sewer line trench pathway. So, trees, driveways, underground utilities, flowers, and even home additions may be in the way and subject to removal. Trenchless methods bypass digging and removing these things, so they are minimally invasive.
5. Our Trenchless Method Will Leave You With A Sewer Line With Enhanced Durability And Longevity.
Trenchless sewer line repair and replacement techniques use durable pipe materials such as high-density polyethylene (HDPE) or cured-in-place (CIPP) liners. These materials are not susceptible to corrosion, cracks, and leaks like other pipe materials. As a result, a trenchless sewer line repair can extend the lifespan of your sewer system, reducing the need for future repair or replacement services.
6. The Technique Can Improve The Flow And Functionality Of Your Sewer Line.
Trenchless techniques can improve the flow and functionality of your sewer line. Techniques like pipe bursting or pipe lining can expand the diameter of the current pipes, allowing for increased flow and preventing future stoppages. Repairing or replacing damaged areas of the sewer line without excavation enhances overall system performance.
7. Trenchless Is Environmentally Friendly.
Trenchless sewer repair techniques have minimized ecological impact. Decreased excavation means less soil disruption and fewer disturbances to natural ecosystems. Additionally, trenchless methods typically mandate fewer construction materials and produce less waste than traditional trenching, making them more environmentally sustainable.
Call Morningside Plumbing For A Free Quote For Trenchless Sewer Line Repairs
Call Morningside Plumbing for sewer line replacement service from Morningside-Lenox Park to Buckhead and areas in between. No matter what local neighborhood, Virginia Highland, Chastain Park, Ansley Park, or Grant Park, we are the plumber to call. Our sewer line replacement and water line replacement is fast and cost effective. HydroVac excavation makes our trenchless line replacement and line repair jobs safer and faster than other plumbers.
If you have sewer line issues, do not worry about losing your landscaping to trenching. Extensive excavation is not necessarily the only way. Our trenchless sewer repair services offer a convenient, efficient, cost-effective resolution. Please call us for a plumber to fix water heaters, when you need sewer pipe and drain cleaning, and anytime a line bursts. Our phone line emergency service agents are here to take your calls 24/7. And guaranteed customer satisfaction comes with all of our service calls.