When you require water heater repair Atlanta, Morningside Plumbing has skilled plumbers on staff to assist you. Morningside Plumbing is the plumbing company to contact if you are looking for a new gas hot water heater or electric hot water heater, need someone to install your new hot water tank, have questions about tankless water heaters, or need water heater maintenance or repair. Gas, electric, and tankless water heaters can all be installed, maintained, and serviced by our plumbers, thanks to their expertise and training.
Reliable Water Heater Repair Atlanta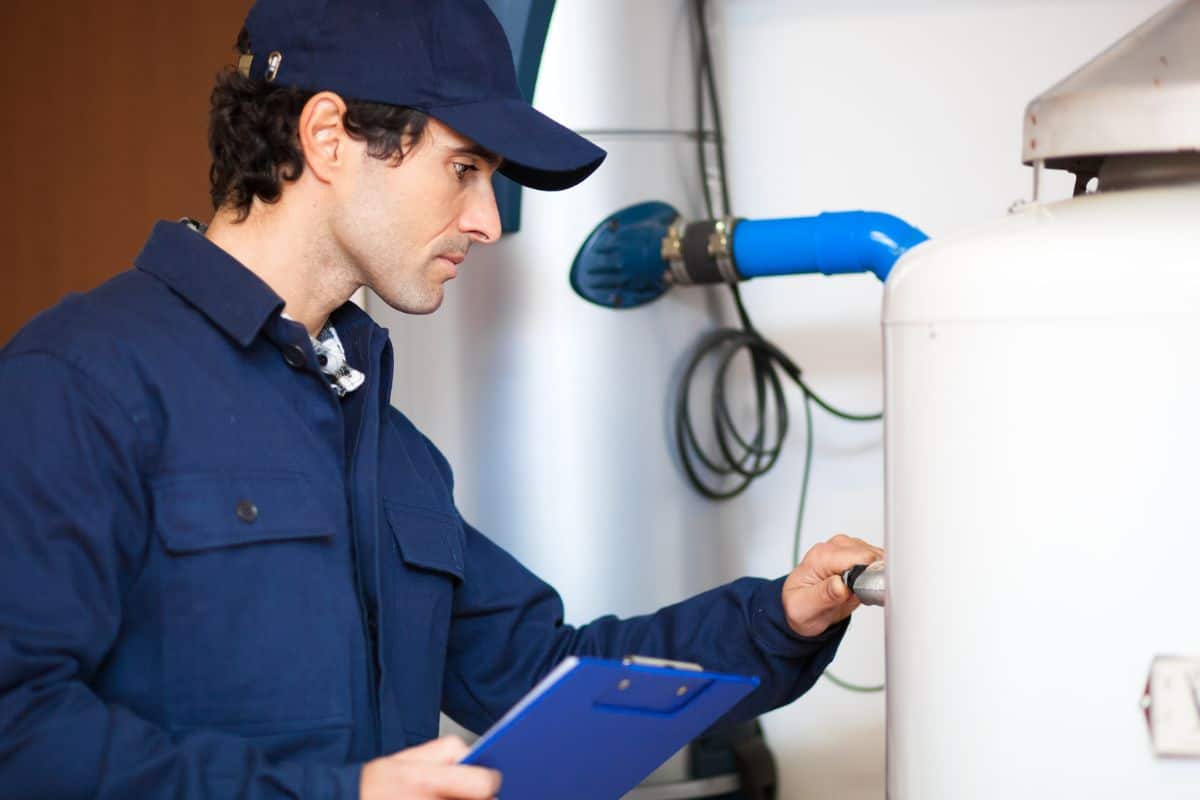 You need to identify the type of water heater you have before you can address any issues with it. What kind of water heaters do you have in Atlanta—gas, electric, or tankless? You can begin investigating your water heater issue once you have established the type of water heater you own. Morningside Plumbing can help you with water heater installation, repair, maintenance, and more. Call (404) 984 2090. or contact us online today!
Common Water Heater Problems
Not enough hot water
No hot water
Leaky pipes
Leaking storage tank
Rusty water
Discolored water
Unusual noises coming from your water heater
DIY Water Heater Tips
You can try a few things to solve your water heater problem before finding a plumber for water heater repair services. Before you do these methods, turn off the power to your water heater if you have an electric water heater. After that, you can try the following:
Check the thermostat settings. Standard settings are between 110 and 140 degrees Fahrenheit.
Tighten the heating element mounting bolt. Make sure not to over-tighten it.
Flush the water heater.
If these methods do not work, call us. You can reach us online or by calling(404) 984 2090. today!
Hot Water Heater Installation and Replacement in Atlanta
It is essential to ensure an expert installs your water heater. A faulty installation is the quickest way to damage a tank water heater. A professional installation helps your water heater run smoothly, and it prevents the need for repairs in the future. If you need to know what kind of water heater is best for your home, we can help you figure it out.
Morningside Plumbing has delivered dependable, timely, expert service to countless Atlanta residents for over fifty years. Call(404) 984 2090. or contact us online to get started.
Conventional Or Tankless Water Heaters
Tankless water heaters are more efficient than conventional water heaters. However, we can help you maintain your conventional water heater to be just as efficient. Or we can install a new conventional water heater and set it up to run efficiently. In addition, tank water heater installation, unlike a tankless install, does not require modifications to the existing ventilation, power supply, or gas supply. And a newly installed tank water heater will still save you money on your energy bills.
Let the team of experts at Morningside Plumbing help you choose between an electric water heater and a tankless water heater.
Water Heater Maintenance and Inspections
Innovations in water heater technology and a Morningside Plumbing water heater expert visit can prevent future system failure and save you money. We check your water heater settings and set them for maximum efficiency. Sometimes there are rebates and tax breaks that you may qualify for when you need a new water heater. Contact or call Morningside Plumbing, and we will help you maintain your water heater's health and life span today.
What size water heater do I need?
The size of the water heater depends on the number of people in your household and your typical water usage. Generally, a 30-gallon water heater works for 1 or 2 people, while a 40-gallon water heater is suitable for 3 or 4. If you have five or more people in your household, a 50-gallon water heater or more excellent is ideal.
Ensure your hot water needs are at your heater's capacity. If you frequently use more hot water than it can supply, consider changing your water usage patterns. For example, if too many people in your home shower at night, one or more of them should shower in the morning. First, however, you may need to upgrade your water heater.
Should I get a tankless water heater?
A tankless or on-demand water heater offers a longer life span, a smaller size, significant energy savings when installed correctly, and a nearly unlimited hot water supply. For many families, tankless water heaters work well, but they tend to cost more to install, requiring electrical or gas service upgrades.
Which is better, gas or electric?
Gas water heaters are less costly, but their complex design requires more maintenance. Electric water heaters are far more straightforward than gas water heaters, reducing maintenance requirements and increasing reliability. However, a gas water heater may be the best option if you have a natural gas connection. If an electric water heater is your only choice, consider a hybrid or heat pump water heater. These are more efficient than electric resistance coil-based units.
What is the best water heater?
The best water heater for you depends on the types of energy available at your home, your hot water demands, and your available budget. Conventional water heaters are less expensive than tankless models but last about half as long. Gas water heaters are cheaper to operate but more complex than electric models. Hybrid or heat pump water heaters offer excellent performance with no gas required, but they are costly to install. For help choosing the best water heater for your home, talk to our plumbing experts.
What type of maintenance is required for water heaters?
Once a year, drain sediment from tank water heaters. Flush the heat exchanger on tankless models to remove mineral deposits, sediment, and debris. In addition, test thermostats and controls, inspect electrical connections, and check plumbing connections for leaks. Measure the resistance of the heating elements on electric water heaters, and inspect the burners, flue, and gas valves on gas models annually.
What are the signs of a failing water heater?
A few signs that your water heater is failing include inadequate hot water production, cloudy or rusty water,  lukewarm water, a leaking tank, or a leaking pressure relief valve. If you notice these signs, call our team at Morningside Plumbing to discuss your water heater repair and replacement options.
How do I clean my water heater?
For storage tank water heaters, open the drain valve once a year to drain the tank of sediment. Then, use a hose to route the water to a drain or a series of buckets to contain the water. If you have an electric model, shut off power to avoid damaging the heating element. And only restore power after the tank refills. Finally, get a professional plumber to clean the heat exchanger on tankless water heaters.
How long do water heaters last?
Storage tank water heaters last seven to ten years with appropriate maintenance. However, there are some examples of tank heaters lasting 15 to 20 years. Tankless water heaters last 20 to 30 years.
Contact Morningside Plumbing for Water Heater Services in Atlanta
Are you ready to have your water heater installed, replaced, repaired, or tuned up in Atlanta? The friendly and knowledgeable plumbing experts at Morningside Plumbing are ready to help. We show up on time for every job. Performing such a high-quality service that we provide a 100% satisfaction guarantee. So, stop looking through water heater repair and service companies and choose Morningside Plumbing today! Get high-quality service at every job, guaranteed. Contact us today at (404) 984 2090.