Every clogged toilet Atlanta residents encounter is an inconvenient disruption. And living without a working toilet is not an option for almost everyone. So, Morningside Plumbing understands that when your commode does not work it is an emergency.
Our plumbers are specialists in all types of clogged toilet repair services, especially unclogging toilets with blockages. Clogs in your toilet develop for various reasons. Things such as foreign objects, hair, and baby wipes will trigger blockages. Our experienced specialists can quickly assess your toilet's condition and provide fast and reliable plumbing solutions, so your toilet is working perfectly as soon as possible. Call us for Atlanta, GA, clogged toilet repair services.
Clogged Toilet Atlanta, GA
Morningside Plumbing is Atlanta's favorite neighborhood plumber. And we have over fifty years in business to prove it. Our plumbers face clogged toilet issues every day, so there is no clog we cannot manage. So, you can trust that our local plumbing experts will unclog your toilet without much trouble and in a flash.
Our professionals diagnose toilet issues quickly and then supply you with a long-lasting solution. In addition, we provide a wide range of toilet repair services, from toilet tank parts replacements to replacement toilet installation. Our team will also answer any questions you may have about the plumbing system in your home or business.
How To Unclog Your Clogged Toilet
A blockages that clog toilets are often in the up-curved trap of the system. For minor problems, you can try plunging to clear the clog. You may know that plunging is done with a plunger, but it may surprise you to know there are different types of plungers.
Cup plungers are most basic plungers are shaped like a cup and have a short stick. The cup is a dome that creates tight suction on flat surfaces like sink, shower, and bathtub drains. To plunge drains, completely cover the overflow drain to form better suction.
Flange plungers can enable you to clear toilet clogs with a little effort. They have a rubber cup with a sleeve-like extension, the flange. It is essential to allow the plunger to form a tight seal in your toilet bowl so you can quickly dislodge debris stuck inside.
How To Clear A Toilet Clog With A Plunger
Put the flange into your toilet bowl and fill the whole plunger with as much water as possible. Press down securely to get a good seal. Next, press down carefully again to remove excess air. Hold the plunger straight up, perpendicular to the toilet bowl, and pump the plunger up and down 20 to 30 times. Also, ensure the plunger is a minimum of midway under the water for the best results.
After a few minutes, remove the plunger from the toilet and see if the clog is gone. Call a plumber to set up a clogged toilet repair service if the clog remains. Also, be wary of using an auger as it can easily damage the inside of pipes and components in inexperienced hands.
Clogged Toilet Repair Services: When to Call A Plumber
There are times when a plunger does not do the trick. If you have seen water backing up in other fixtures, such as sinks or tubs, after you flush, this signifies more major plumbing issues. Instead of a simple Atlanta toilet repair service, you may have a severe clog in the main line. Major line blockages require professional drain cleaning from a qualified plumber.
Fortunately, Morningside Plumbing can solve any blockage or clog in your plumbing system. We have the most current technology, tools, machinery, and equipment available in the plumbing industry. On top of that, our plumbers near me have the skills, training, and experience to get your plumbing and toilet working correctly in no time.
How to Keep Your Toilets Unclogged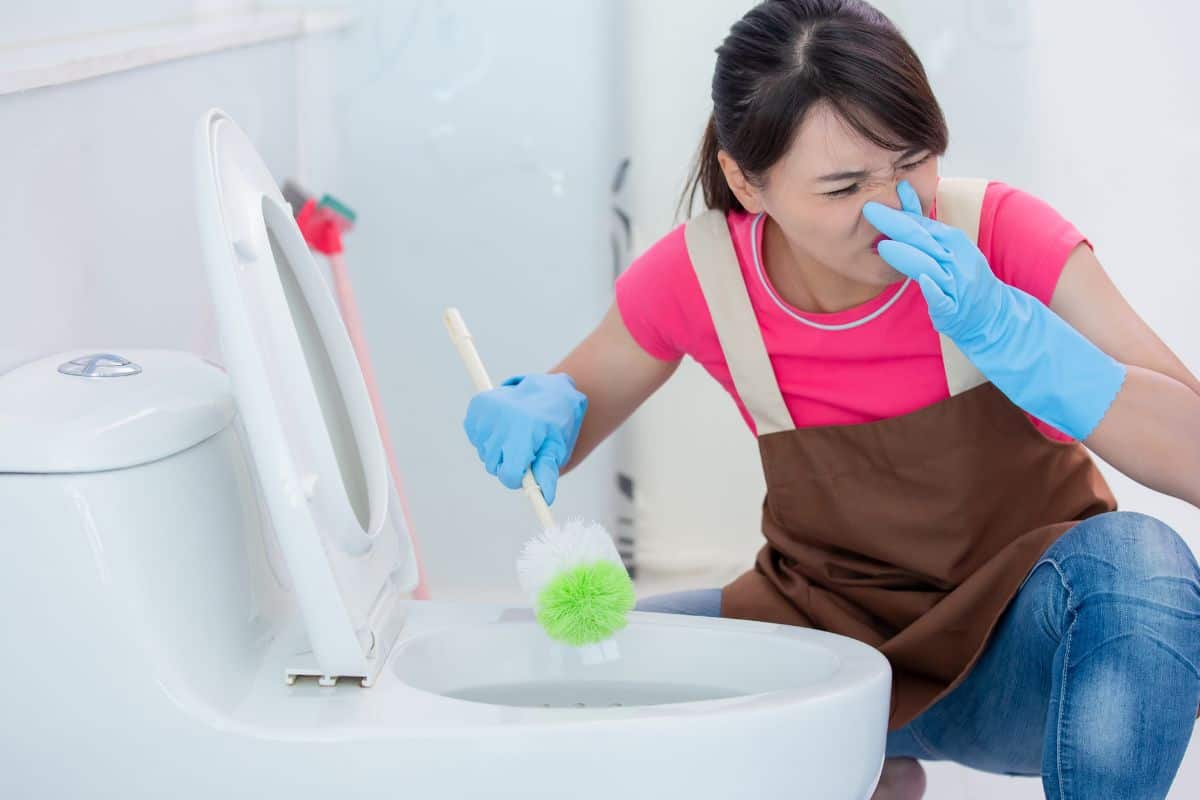 The best method to keep your toilets clean and clear is to be conscious of what you flush. Inform kids about what is appropriate to flush. And install toilet lid locks that are readily available as an extra safety measure to protect your plumbing.
Routinely clean toilets a minimum of once a week. Regular toilet cleaning keeps the jets around the rim at full flushing power with no build-up impeding it. A quick scrub with a brush is all it takes.
Only flush toilet tissue down. Never flush paper towels, womanly hygiene items, diapers, or anything else that is not toilet paper. Flush only paper, poop, and pee. And no wipes at all. That means no flushable wipes! Wipes are not ok to flush no matter what the packaging says.
If you experience a clog, call us for your Atlanta clogged toilet service – even toilet gurgling issues! We have the knowledge and resources to take on any plumbing concern quickly and effectively. Contact us today to schedule a service call.
Specialist Clogged Toilet Atlanta Repair Services
Whether your toilet is clogged, will not flush, or overflows, trust our clogged toilet plumbers to get the job done quickly and expertly. Our group is trained and experienced and comprehends the seriousness of toilet repair and drain cleaning services. If you want to upgrade your bathroom, you may be interested in a smart toilet or bidet.
Contact us for a quote on smart toilet setup. Our team is here and ready to help you, no matter your plumbing concerns or projects. For expert plumbing services, call Morningside Plumbing to reserve your appointment.
Regularly Asked Questions About Clogged Toilets
How to fix a clogged toilet?
If you have a clogged toilet and the plunging is not working, you must call a plumber to repair the clogged toilet. Generally, a clogged toilet repair service involves drain cleaning or hydro jetting.
Why does my toilet keep clogging?
Irregular clogs are par for the course. However, if you keep experiencing a clogged toilet, it is a sign that something more extensive is wrong. Anything from a low-flow toilet to a clogged sewer line might be triggering frequent clogs, so getting a plumber in to check out your toilet ASAP is best.
How to fix a toilet that keeps clogging up?
You might require an expert's help to ensure that absolutely nothing has been lodged even more down in the drain or otherwise triggering it to clog repeatedly. For stubborn clogs, call a knowledgeable Atlanta plumbing company like Morningside Plumbing.
How to unclog a toilet with a flushable wipe clog?
A plunger is the best method to unclog a toilet blocked with flushable wipes. However, if that does not work, you should call a plumber who can inspect the toilet and correct the issue.
Can hair clog a toilet?
Enough of anything can clog a toilet, including hair. So, it's best to get rid of hair in the trash bin so that it does not clog the S-shaped trap or plumbing vent in your toilet.
Who repairs a clogged toilet?
For quick, trustworthy clogged toilet repair services near you, call a professional plumber like Morningside Plumbing. Our skilled plumbers can manage all your toilet repair needs quickly and effectively. So please do not wait any longer– contact us now for the toilet clog removal services near you.
Toilet Repair and Installation Services
Check out the best Kohler toilets that Morningside Plumbing can install for you. We also install toilets from American Standard.
For an appointment call us at (404) 984 2090. One of our certified experts will be there in a flash to help you and prevent a plumbing disaster. Are you in need of Atlanta Emergency Plumbing? Click to read about Atlanta Emergency Plumbing.