Here's what to expect during and after your sewer line repair.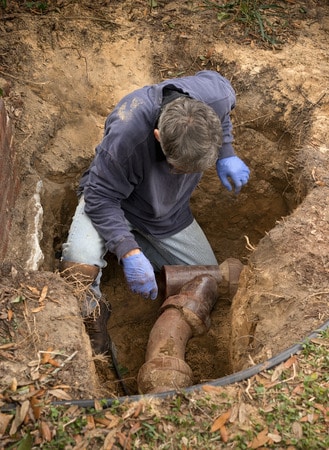 Nobody wants to deal with a sewer line repair. It can quickly become a stinky mess and can even pose a health hazard to your family. Atlanta homeowners face this task far more often than you think. There are many conditions that can lead to a damaged sewer line. No matter the cause, calling in a professional plumber is always the smartest way to handle a sewer line repair.
If you have never had a sewer line back up or rupture, consider yourself lucky. But if you do suspect that your sewer line is about to create a problem, don't panic. A solution to your sewer line emergency is a phone call away. In the meantime, here's what you can expect during your sewer line repair appointment.
Call a Trustworthy Plumber
The first step toward getting your life and your home back to normal is calling your trusted local plumber. A qualified professional plumber will make short work of your sewer line problem without cutting corners. Choose a service provider with a track record of solid customer satisfaction. Avoid those companies that do business like fly-by-night operations that are here today, gone tomorrow.
Don't have a plumber you already know and trust? Ask your friends and family for recommendations. Check out the online review sites for unbiased advice. Shop around for a good company that offers fair pricing. Don't hire a plumber that makes an offer that seems too good to be true – because it almost always is.
I Hired a Plumber – Now What?
With your service date coming up, there are a few things you can do to prepare for your plumber's visit. Take note of when you first noticed your sewer line issue. Perhaps you noticed that a patch of your lawn is always saturated and stinky. Or maybe you found sewage backed up into your basement. Write down the day it happened and record what you have done since then.
Make sure your plumber has access to your entire property on the day of your appointment. Even if you didn't notice anything wrong in your basement, the plumber might want to check it out anyway. It's always better to do a thorough inspection just in case the homeowner missed something. It could save you another visit from the plumber a few days later!
During Your Sewer Line Repair
Many Atlanta homeowners worry that a sewer line repair will lead to a torn-up lawn. This is a valid concern. If the sewer line issue is in your house, your yard will probably go untouched. A backed-up sewer usually just needs the help of a plumbing snake to break up the solid blockage.
If the damaged pipe is underneath your lawn, well, you may have to do some turf restoration. The good news is that the best plumbers have technology that makes it easy to pinpoint the location of your damaged pipes. There's no need to go probing and digging to find the source of a leak if you hire the best plumber in your area.
Need Help With Your Atlanta Sewer Line?
For more than 25 years, Morningside Plumbing has served Atlanta's homeowners with unbeatable customer service. Our plumbers have the training and experience it takes to solve your plumbing puzzles the right way, every time. We offer accurate, no-obligation quotes to help you make the right choice for your home and budget. And if your sewer problem can't wait any longer, Morningside offers around-the-clock emergency service.
If you ask your friends and neighbors for their two cents, we bet they will tell you to trust Morningside for your Atlanta sewer line repair. Click or call us today at (404) 800-7442 to make an appointment with Atlanta's trusted plumbing pros.