An Atlanta plumber answers your top DIY plumbing repair questions.
As a local Atlanta plumber, I'm often asked by friends and family which types of jobs require a professional, versus those which only need a bit of internet surfing and a trip to the hardware store.
Most homeowners have a lot of DIY questions about projects around the house. Over the years, all homes will have a plumbing leak or need a water heater repair. Whether you need drain cleaning or emergency water line repair, our plumbers can answer your questions. Replacing a shower head or unclogging a drain are all things most average homeowners do without a second thought. But where should you draw the line, Atlanta?
Well, Atlanta, it depends. Read on for fast information you can use.
DIY May Cost More in The Long-Run
You might not have the skills or tools required to complete a job a plumber can do. Even if it is seemingly quite simple, it may require a plumber. Suppose you can complete your plumbing repair, on one hand, you may save money on the initial repair. On the other hand, however, plumbing system work often requires certification. Unapproved DIY plumbing repair can become an issue at some point. Say, if and when you decide to sell your home in Atlanta. If your plumbing repair is not done according to the local building code, it will require additional work. Moreover, you might be required to have a licensed plumber repair it.
With all of that in mind, here's how I would recommend you go about determining whether or not to call a plumbing pro.
Do-It-Yourself? Or Hire an Atlanta Plumbing Professional for Plumber Repair?
Plumbers generally bill their time by the hour, in addition to a service call fee for an initial visit and assessment. While your final bill may include some materials, it's relatively rare for them to comprise a significant amount if the fix wasn't anything too crazy.
Depending on the project, it may be more cost-effective for you to do it yourself; especially if the problem is somewhere easily accessed (i.e. not behind your walls!).
However, this approach only works if you have a skill set, familiarity, and basic knowledge of the tools you'll be using. In some cases, improper installation may end up doing more harm than good, turning a $100 problem-fix into a $1,000 repair bill. Hiring a professional helps eliminate this risk, and also has the added benefit of leveraging professional expertise to troubleshoot anything else that might be going on with your plumbing system.
And whatever you do, please, please, please make sure you know where your water shut-off valve is before getting started!
Common DIY Atlanta Plumbing Projects and DIY Plumbing Repair

Here are a few of the projects you may be able to tackle on your own. However, if you do not feel confident, do not hesitate to call a pro plumber and have them come out. Then, pay attention to what they are doing so you can gain confidence to try it the next time. Also, contact us for fast Atlanta plumber repair. Also, for a plumber for a fast sewer line and installation water line as well contact us.
Dripping Faucets
Do you need a plumber to repair a faucet?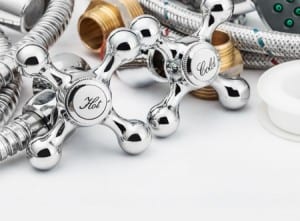 This task is one of the easier plumbing repair projects most homeowners decide to take on. Faucets are readily available at the local hardware store, and there are a plethora of DIY guides and installation instructions available for people to use.
FRIENDLY PRO PLUMBING REPAIR TIP: Pay attention to the configuration setup of your counter; it will help narrow your faucet choice at the store and save you the trouble of trying to drill brand-new holes in your sink.
Washing Machine Leaks
Our friendly plumbers explain how to replace an old rubber washing machine hose.
Over time, hoses have a tendency to wear out. If one of those suckers ends up bursting, it can flood your floors in no time, and cause incalculable damage; especially if you aren't home when it happens! To replace a hose, simply get a new set of burst-proof hoses from the hardware store, and then follow the installation instructions.
PLUMBING PRO SERVICES TIP: Be sure and turn off the water and unplug the washing machine before you get started. Also, have a bucket handy for tossing in the old, water-filled hoses.
Toilet Problems
What should you do if your toilet plumbing will not stop running?
When your toilet is continuously running, or you're finding yourself jiggling the handle to get it to stop, chances are good there's something wrong with the inner basics. There is plenty of DIY repair and replacement kits available at the hardware store, and very few tools are required to get the job done.
HOME PLUMBING SERVICES WATER PRO REPAIR TIP: Make sure you know what kind of flap and handle system your toilet has before going to the hardware store. This should also include the arm measurement or distance from the handle to the flapper.
When to Call a Plumber
Plumbing Projects Requiring Professional Plumbers and Services
If you find yourself facing any of these scenarios, be sure and call our Atlanta plumbers for their services. We are the best in Georgia!
Home remodel and renovation plumbing services
Leak detection and repairs
Sewer line problems
Leaks inside the walls
Equipment installation and maintenance
Emergency and after-hours leaks
Plugged sewer lines and drains
Plumbing systems and line repair
Emergency leak repair services
Water heater repair
No hot water
Installing a sprinkler system
Repairing a sump pump
Replacing major fixtures such as showers, toilets, and sinks
Septic tank work
Water wetting interior room's ceiling
Pools of water under a water heater
Drain cleaning
In Need of a Little Plumbing Help with a Water Heater Repair or Broken Sewer Line in Atlanta?
If you think you're in need of an Atlanta plumber, do not wait; contact us. Our friendly team of plumbing experts is ready to help you. Contact us at Morningside today at (404) 984 2090. Our service area includes Atlanta and the following areas; Midtown Atlanta, Ansley Park, Avondale, Buckhead, Chastain Park, Decatur, Dunwoody, Druid Hills, Morningside – Lenox Park, Sandy Springs, Vinings, and Virginia Highland.