Here's what to expect before, during, and after your water line repairs in Atlanta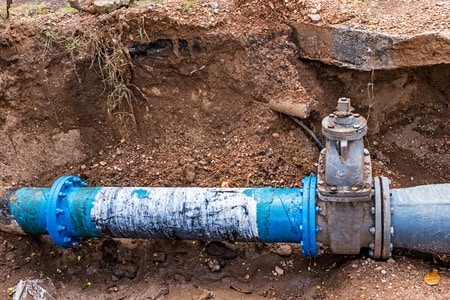 Are you in need of a water line repairs in Atlanta? You are probably worried about what your property will look like after the repair. Maybe you're curious about what you can do before your plumber gets there to help prepare for his arrival. If your house has damage from rushing water, you are certainly stressed out and struggling to figure out what to do first. Take a breath, and keep reading.
Morningside Plumbing can help. Over the years, we have fixed a lot of water lines all over the metro Atlanta area and beyond. Our experienced crews have the training to handle a wide variety of plumbing emergencies, including water line repairs. Here is our best advice about what your water line repair in Atlanta will entail.
What to Do When You Discover the Broken Water Line
The first thing to do when you find a broken water line is to turn off the main water supply to your house. This valve is often located somewhere outside, or perhaps in the basement. It's often a simple lever with on and off settings; just twist the lever to the off position.
The next step is to get your plumber on the phone and schedule the quickest appointment possible. Keep in mind that most plumbers stay pretty busy, and they won't be able to drop everything to handle your busted water line. The faster you make the call, the sooner help can arrive.
How to Prepare for the Plumber's Arrival
If anything is cluttering the affected area, remove as much of that stuff as you can. You will want to clear a path so your plumber can get right to work when he arrives. This will save you both valuable time and could reduce your hourly labor charges.
What to Do While the Plumber is Hard at Work
Make yourself available to answer questions and assist your plumber in any way he needs. However, most plumbers don't need you to hover over them while they work. On the other hand, don't leave the plumber alone at your home. This actually happens quite often!  
What to Expect During the Repair
If the water line break is outside the house, your plumber will have to dig up the affected pipe. Yes, this means disrupting a portion of your lawn. Most plumbers are careful about preserving the sod flap so it can go right back over the affected area after the repair. If you have concerns about your lawn, this would be a good time for you to step in and help with your plumber's efforts.
After the Repair is Complete
Your plumber should test your water pressure after fixing the water line. Then the plumber will tidy up and help you bring the area back to the way it was before the incident. A good plumbing company will call you a few days later to make sure everything still seems to be okay. If you have any concerns in the meantime, don't hesitate to call your plumber back out to check things over.
Need to Find Water Line Repair Services in Atlanta?
Morningside Plumbing has spent many years completing water line repairs for Atlanta's homeowners. We know what to expect when clients call us with broken water line emergencies. Our trained and experienced crews use the latest methods and technologies to get your house back in order fast.
Every homeowner needs a reputable plumbing company on speed dial. From clogged drains to broken water lines, flooded basements and drippy faucets, Morningside Plumbing is here to serve all your plumbing needs. Call us today at 678-726-1465 for your water line repairs in Atlanta and any other plumbing concern.