The Vinings plumber you are looking for is here. Look no further than Morningside Plumbing. Our team is ready to handle repairs, replacements, and installations of water heaters, sewer lines, and more. With access to the latest technology and tools, our skilled plumbers can fix your plumbing issues quickly and efficiently. Please do not wait days to schedule a plumbing repair. Get your plumbing issues, major or minor, taken care of fast with Morningside Plumbing. We pride ourselves on offering fast and reliable plumbing solutions to our customers. Morningside Plumbing services Vinings, GA
Vinings Plumbing Company Reviews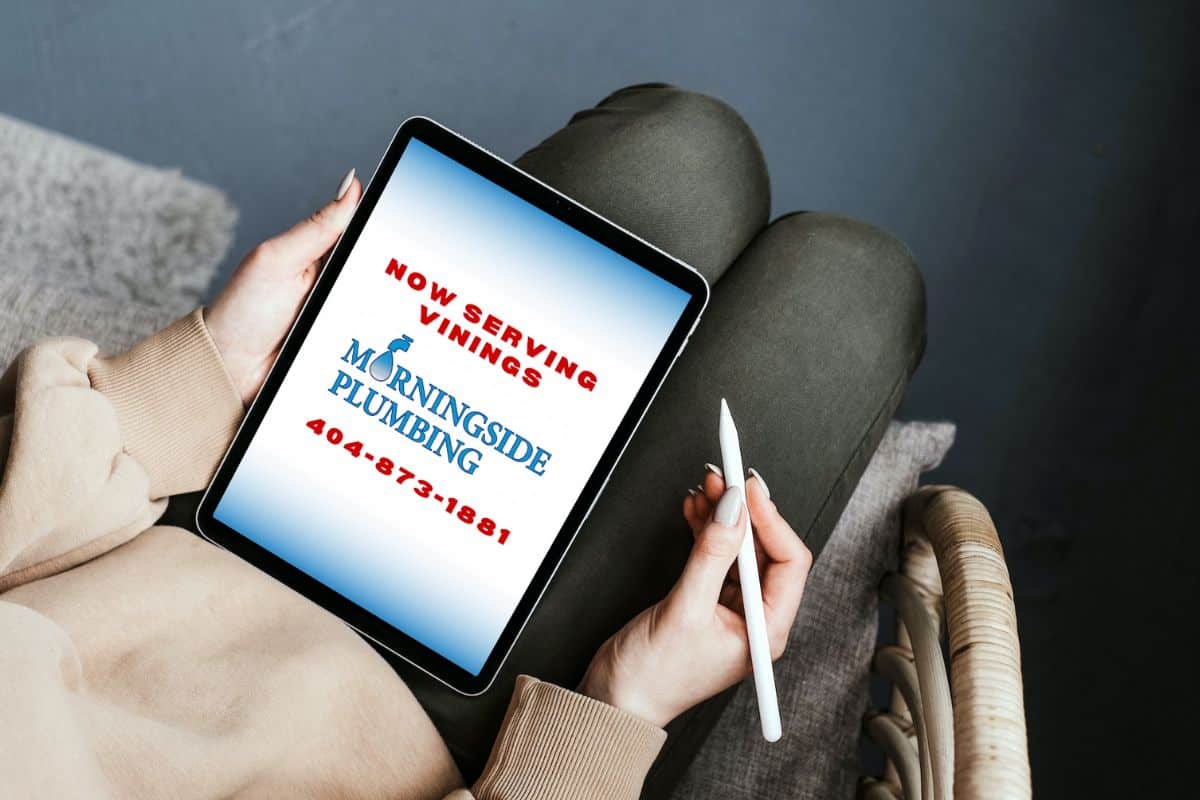 If you are searching for "plumbers near me" in Vinings, one way to find a superior plumbing company is by reading customer reviews. Morningside Plumbing has a reputation for quality service. It is evident from all the five-star Google reviews from our customers. Please read our customer reviews and see why we remain the top choice for reliable plumbers in Vinings. Here are a few of our most recent reviews:
1. Review For Services: Water heater installation, Water heater repair
S. B. – a week ago
Positive: Professionalism, Quality
I never write reviews for anything really, but Morningside Plumbing went above and beyond. My (very old) water heater broke at night, and Josh walked me through several steps to help me mitigate damage before a new water heater could be installed the next day. He and his teammate came by and promptly finished the installation in the morning. I am very grateful for Josh's help, and Morningside has just earned a loyal customer!
2. Review For Services: Water heater installation, Plumbing pipe repair, Faucet repair
S. P. – a month ago
Positive: Professionalism, Punctuality, Quality, Responsiveness, Value
Exceptional experience.
Josh came by the house Thursday morning and by Friday afternoon. we had two new electric water heaters, an installed Moen Flo WiFi water monitoring device, a new faucet for our vintage shop sink, and upgraded water lines. Bonus Star for arranging tubes of red and blue PEX to look cool in the mechanical room.
3. Review For Service: Water heater installation
D. S. – 3 months ago
Our experience with Morningside Plumbing was excellent from start to finish. We recently bought a house and the inspection determined that the pressure reducing valve had failed at some point and the water heater and expansion tank had probably been damaged as a result. (Plus the heater was nearing the end of its useful life anyway.) We did a lot of research online–Morningside had exceptional reviews across the board. We called and spoke to Mark–he was able to schedule an immediate visit from their service manager Josh.
One of the pleasures of working with service technicians like plumbers, electricians and locksmiths is that the best of them really know their craft, and Josh was knowledgeable, thorough, and informative. He gave us excellent advice concerning an appropriate replacement heater, identified issues our inspector had missed, and recommended a course of action that included replacing two valves. He was willing to take a good amount of time with us, too, which I appreciated. They offered a quote, which was in line with what we expected. And once we accepted the quote, they had a team out to the house two days later. Kevin and Jose were friendly and efficient–we barely knew they were there and they finished an hour and a half early. They walked us through what they had done, and the worksite was immaculate.
We deferred a couple of other minor recommendations the inspector had made, but we are absolutely going to call Morningside when it's time to have that work done.
Traditional Water Heater And Tankless Water Heater Installation And Replacement Services
If you experience a sudden lack of hot water in your home, it could be a sign that your water heater needs repair. Unfortunately, water heaters do not last forever and can break down without warning. In such situations, it is best to call a professional plumber to assess the situation and determine the best action. Morningside Plumbing offers emergency plumbing services 24/7/365 to ensure you can access hot water when needed. Whether you need a water heater replacement or a tankless hot water heater installation, we have you covered. We have you covered if you need Vinings water heater repair, replacement, or installation.
We also provide tankless water heater installation and repair services. In addition, our plumbers can replace your old traditional water heater with a new green tankless unit. You may not know that a tankless water heater is for you and your home. Do not worry. Our team can help determine if tankless water heaters will work in your home or business. Why not go for a more energy-efficient and cost-effective solution?
Morningside Plumbing Services In Vinings, GA
When you call the best plumber near me, Vinings plumbing issues are easy to solve. Morningside Plumbing is the best Vinings plumber near me for the residential plumbing system in your home. Our pro plumbers provide many services, from toilet repair to installation and water line replacement. When looking for a plumbing company near me, remember that we service Vinings. Contact us if you have a Vinings gas line issue or a Vinings drain clog problem.
Trenchless Sewer Line Replacement Services
Sewer line replacement can be messy and disruptive. Still, Morningside Plumbing offers a convenient and efficient solution with its trenchless HydroVac services in Vinings. They can quickly complete the job using state-of-the-art vac trucks without damaging your lawn or property. Their HydroVac services provide a safer, cleaner option for sewer line replacement. If you have questions or need a quote, Morningside Plumbing can assist you. You can contact them online or at 404.984.2092 to learn more about their HydroVac services.
Are you curious about trenchless sewer line repair services? Check out our totally Free Trenchless Sewer Line Repair Resource For Customers. Learn everything you need to know about no-dig sewer repair. Make sure to find out why Tree Roots Are Attacking Sewer Lines in and around Vinings. Remember that Morningside Plumbing Offers Fast and Affordable Trenchless Sewer Line Replacement.
24-Hour Emergency Plumbers
We at Morningside Plumbing provide reliable plumbing solutions to commercial and residential customers. Our reliable plumbers are available around the clock to serve Vinings' homes and businesses. In case of a sewer backup or water line leak, you can rely on us for emergency plumbing services. Our commitment to quality and timely service has made us the preferred choice for emergency plumbing services in Vinings.
Do not hesitate to call Morningside Plumbing in case of a plumbing emergency. Our plumbers handle common emergencies such as leaking water heaters, frozen or burst pipes, and no running water due to water line damage. If you notice water dripping from your ceiling, it could be a sign of a pinhole leak in your copper pipes. Hence, it is best to call an emergency plumber immediately. Toilet problems like overflowing or blockages can be unpleasant, but sewage backups are even worse. Keep an eye (and nose) out for sewage gas smells in your home, and be aware of the signs of a plumbing emergency before it is too late.
Morningside Plumbing Provides Quality Plumbing Repair
We go beyond for our customers. Providing reliable plumbing service to our community is our mission. Morningside Plumbing proudly provides quality, reliable plumbing services in Vinings, Georgia, including:
Are you in need of professional plumbing repair services? We specialize in various plumbing services to meet your needs, including bathroom and kitchen plumbing and repair, water line installation and repair, and general plumbing services for residential and commercial properties. Our skilled technicians have years of experience handling water line repair and replacement, trenchless sewer line repair, sump pump and replacement, and drain cleaning and repair. We can also assist you with gas line installation and repair, septic tank installation and repair, and hot water heater installation and repair services.
Don't let plumbing problems disrupt your daily routine. Contact us today to schedule an appointment, and let us take care of all your plumbing needs. You can depend on us for quick and effective solutions for all your residential and commercial plumbing needs in Vinings. Our team of skilled Vinings plumbers specializes in drain, sewer, and sewer jetter services. Your drains need maintenance services to function as they should without backups. Keep your drains flowing freely with a bit of help from Morningside Plumbing.
Please find out more about our Drain and Sewer Cleaning Services in this press release. Check out another recent press release full of Expert Advice on Identifying and Addressing Blocked Drains. Also, we debunk the Common Myths About Drain Cleaning.
If you need plumbing repair services, look no further than Morningside Plumbing. Our team of experts offers reliable repair services for faucets, toilets, sewers, and more. We are just a phone call away if you need a water line, water heater, or sink repair.
Schedule An Appointment With Morningside Plumbing
Morningside Plumbing is a reliable and experienced local plumbing company. We are a third-generation family of plumbers serving the Atlanta metro area. Support a trustworthy local family business when you hire us. Our reputation for being the best neighborhood plumber continues after fifty years. If you need our assistance, do not hesitate to contact us. Morningside Plumbing is just a phone call away at 404-873-1881.
Morningside Plumbing is the best option when you need plumbing services in Vinings. Our team of professional plumbers handles everything from simple toilet repairs to complex sewer line replacements. We understand the importance of prompt service, so we offer 24-hour emergency plumbing services for residential and commercial properties. In addition, we provide HydroVac services for sewer line replacement, a safer and cleaner option that will not damage your lawn. Contact us online or at 404-873-1881 to learn more about our services and get a quote.