Do you need an Atlanta plumbing repair company? Here's what you need to know before you call.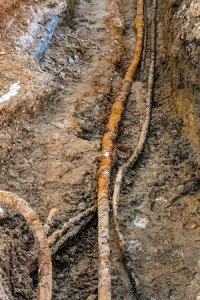 Close your eyes for a minute and tell us the first thing that comes to your mind when you hear the two words sewer line… that's right, "I need an Atlanta plumbing repair company NOW!" How do you know your Atlanta plumbing repair is the sewer line? Follow your nose. A problem with the sewer line is going to be pretty obvious from the odor.
If you don't have any backup at the drains or toilets, but you notice the unmistakable stench of sewage, there's surely a problem with the sewage from your home making it out to the city sewer line. You can expect to track the smell to the basement if the sewage line repair is outside of the home.
So once you know you have a sewer problem on your hands, here are the top 4 things you will need to know before you call the repair company:
1. Whose Atlanta Plumbing Repair Problem Is This?
As a homeowner, you probably know you are responsible for the repair and maintenance of the sewer lines on your property. How do you know if the problem is yours or if it's beyond your property line?
If the problem is down the block or out at the street, the repair belongs to the city or perhaps a neighbor. Tracking down exactly where the problem is can be a job for the experts, but you might have a blueprint of where the sewer lines on your property are located. Fortunately, professional Atlanta plumbing repair services can quickly find and track the sewer lines to determine the problem and fix it.
2. Your Atlanta Plumbing Repair Professional Wants to Know If Your Soil Is Clay
Clay soil is the most severely corrosive type of soil, which can cause significant problems to your sewer pipes. It's common to have clay soil in Atlanta, but did you know that it can start attacking your pipes from the moment they are put in the ground. This corrosion can easily lead to broken sewer pipes and could mean that repair/replacement may need to be extensive.
3. Tell Your Atlanta Plumbing Repair Expert About Your Trees
If your landscaping includes mature trees, you might have a problem. Tree roots will seek out your pipes because they hold water, oxygen, and nutrients the tree needs to grow. The problem is tree roots can cause serious problems that can block or even break your sewer lines. Even the pros at This Old House will tell you tree roots can cause big problems for sewer pipes. They talk about the possibility of installing plastic barriers to keep the roots from the pipes, but that's a big project to take on by yourself.
4. Your Atlanta Plumbing Repair Pro Wants to Know What Your Pipes Are Made Of
We've already talked about the clay in your soil causing corrosion damage to your sewer lines. As if that wasn't enough, homes constructed before the 1980s were most likely built using clay pipes. Other pipe materials that can lead to corrosion include cast iron and ductile iron. Add in deterioration common in steel or tile pipes and it's easy to see why the pipe material itself could be the problem with your sewer lines.
Summer's going to be busy in Atlanta, and the fun starts Memorial Day Weekend with the Atlanta Jazz Festival. This year is year 39 of this outstanding musical treat! You're not going to want to miss out on Benny Golson, Eliane Elias or Daby Toure` down at Piedmont Park, so make sure you take care of that sewer line repair today.
Call or set up an appointment online with Morningside Plumbing. Atlanta's plumbing repair company is at your service.