Hiring an Atlanta plumber service now could save you money and headaches down the road.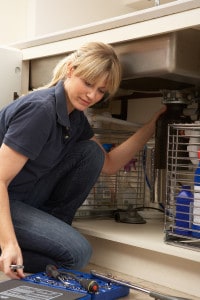 You might be thinking to yourself, "Why would I hire a local Atlanta plumber service to install my new garbage disposal? Isn't it pretty easy?" Sure, the long list of do-it-yourself blogs make it sound like a piece of cake, but do you really know what you are getting yourself into? Here are some things to consider before you make the attempt:
Did You Install a Brand New Under-Mount Sink?
One of the main reasons people want to install a garbage disposal is they also recently installed a new under-mount sink. Now, if you had an under-mount sink previously, and the dimensions are the same, you might be in luck. If your installation was handled professionally the first time, you may be able to do the install on your own, and copy the pipe configuration laid out by the original plumber.
However, if you went from a drop-in to an under-mount, going the DIY route is a very bad idea. Here's why: Your garbage disposal drain is likely lower than your waste line.
This is the single most common issue we see after a new under-mount sink has been installed. The waste line was plumbed for the old sink, which sat three to four inches higher than the new one. It worked perfectly well….until your new installation pushed the disposal drain down another few inches. In order for your new disposal to work, the waste line must be lowered. If you don't, your sink will be prone to clogs and back-ups, flooding your sink with rotten and decaying food and sewage.
Depending on where and how the waste drain is installed, you may need to do some extensive pipe re-work behind your drywall. This is not the time or place to attempt to teach yourself how to be a quality plumber; leaks, pressure issues, and a host of other expensive problems are likely outcomes if you try to do it yourself.
Do You Have a Large, Well-Stocked Tool Kit, Complete with Plumbing Accessories?
Plumbing takes a variety of tools, including special pipe fittings and custom measured/cut pipe lengths. You also need:
Slip joint pliers
Screwdrivers
Hammer
Socket wrench and set
Plumber's putty
Plumber's tape
Pipe sealant
Bucket
Rubber gloves
Yes, you can certainly go out and buy all of these at your local hardware store. But be prepared to make multiple trips, take exhaustive photos of the situation under your sink, and search high and low for the one person in the entire store who may actually have some rudimentary plumbing knowledge. If you have an entire day to waste, then this may be something you will enjoy.
Do You Have a Sensitive Stomach?
None of the DIY blogs seems to talk about this one, but those pipes you are opening up are likely full of decomposing food and debris. No one has crystal clean pipes, and the moment you open them up, you're going to get a whiff of whatever you have been pushing through them for the past year or more.
You should also expect some of it to end up on you. It is almost impossible to remove the old and install the new, without something slipping, falling and/or splattering. For professionals, we deal with it every day. But for the average person, it may not be your particular cup of tea. Decide if you can stomach the effects before you make the final call.
Ok, You Sold Me. Who Should I Call to Install My Disposal?
Our disposal pros are standing by, ready and waiting to help you tackle your new installation. If you live in Midtown Atlanta, we can install your shiny new garbage disposal in no time, keeping the mess to an absolute minimum. Sure, you might find several companies who can do the installation, but remember: there's only one Morningside Plumbing.
To schedule your installation before the busy holiday season hits, call us today at 404-873-1881, and let the premier Atlanta plumber service get the job done right.