Morningside Plumbing shares professional tips for homeowners in Buckhead: on water heater replacement and repair.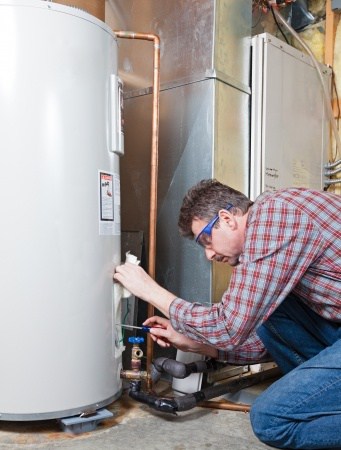 Are you looking into water heater replacement or repair in Buckhead? It is important to do some research before making any decisions. It would be a shame to throw out a perfectly good water heater that just needs a minor repair.
Here are our best tips to help you figure out whether your water heater needs repair or replacement.
How old is the water heater? The average lifespan of a water heater in Georgia is about ten years. If your water heater is closing in on or has passed the decade mark, you would be smart to invest in a new efficient model.

Have you noticed discoloration in your water? Try emptying your water heater twice to flush away sediments that collect over time. If the problem does not improve, the water heater is probably rusting inside. That means replacement.

Are strange new noises coming from your water heater? If sediment is never cleared out of a water heater, it will eventually harden at the bottom and cause rumbling sounds. This sediment sheet will reduce the unit's efficiency and put more wear and tear on the heating element. It's time to replace that water heater.

Is the water heater leaking? Any amount of water puddling underneath the unit is a sign of a leak. If the leak is coming from a fitting, it may be repairable. But if the tank has cracks, the whole unit will have to go.
Which Will it Be: Replacement or Repair?
Take a moment to check through the bullet points above. We hope it just looks like you need a quick repair. Replacing a thermostat or heating element is a fast and affordable fix. Morningside Plumbing can often schedule these visits the same day you call us.
Does it look like your water heater needs replacing? You have a few options. The good news is that any of those options will save you money on your utility bills because water heaters become more efficient with each passing design phase.
Tankless Water Heaters
Buckhead water heater experts, Morningside Plumbing, hope you will consider investing in a tankless water heater. These ultra-efficient devices instantly heat water on demand, instead of constantly heating a large tank of water. These energy savings will slash your utility costs. Plus, this means you will never run out of hot water!
Tankless water heaters take up far less room than standard water heaters. On top of that, you may qualify for a federal tax credit when you install a tankless water heater.
New Standard Water Heaters are Still an Upgrade
If tankless just does not sound like your speed, rest assured that the latest models of standard water heaters are still about 20% more efficient than whatever is currently in your home. Upgrading to a new model will save you hundreds of dollars on your utility bills over the life of the unit.
Finding a Water Heater Replacement or Repair Service in Buckhead
Don't worry – if you are still not sure whether your water heater needs repair or a full replacement, Morningside can help. Our plumbers will assess each situation and prescribe the best course of action for each client.
It's natural to be nervous about hiring a plumber you don't know. If you ask your Atlanta friends and neighbors who they use, they will likely tell you Morningside. We have served Atlanta's homeowners for over 50 years with the utmost respect and gratitude.
Call Morningside at 404-873-1881 to schedule your water heater replacement or repair in Buckhead.
This post was updated on June 11, 2020.