What you should know: not all plumbing companies in Atlanta are created equal.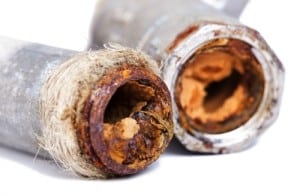 There are a number of plumbing companies in Atlanta, but not all of them are equipped to re-pipe your whole home. Why is this a big deal, you ask? Because it could impact your family's health, your ability to re-sell your home, or state and local permission to build the addition you've been dreaming of. If your system isn't up to code, it can cause you a host of problems. And when you find out you need an entire home re-pipe, you want to make sure you're calling in the best.
Why Do I Need to Re-Pipe My Midtown Atlanta House?
Well, there are a number of reasons. One could be the discovery of galvanized pipe. Once a popular plumbing option before 1960, galvanized pipe was thought to resist rust and corrosion. However, it is actually highly sensitive to moisture. As it corrodes, it causes blockages, reducing the flow of water throughout your house. Plus, the corrosion causes accumulations of lead over time; a big no-no when it comes to your health.
Another reason for a re-pipe is leaks. Have you been having consistent trouble with leaks behind your walls? Has mold or mildew suddenly appeared in areas with seemingly very little moisture? When inferior materials are used, or your plumbing system is improperly designed, frequent leaks are the side effect. If you're constantly battling leaky pipes, you should definitely consider a whole-house replacement.
What Happens in a Whole House Re-Pipe Project?
You've probably already figured it out, but a re-pipe is the process of replacing your existing plumbing with new hard copper or plastic pipes. It can be an involved process, and certainly isn't something you want to undertake on your own. Here is an easy five step breakdown of the process, so you know what to expect:
Call a professional to schedule a complete plumbing inspection, and provide you with a quote. 

The inspection should include your water-based appliances and hot water heater as well. Over time, corroded and compromised pipes can seriously damage their systems.

Sign on the dotted line and prepare yourself for a bit of chaos. You will likely be without water for a week or more while the work is going on, so make arrangements in advance. And leave instructions with your plumbing team on how they should treat your furniture and belongings in your absence.
Out with the old, and in with the new! Your plumbing crew will move through your house a section at a time, opening up the walls and ceiling to remove and replace your old pipes.
Inspection time! Once an inspector has signed off on the plumbing work, your plumbing team should perform a whole system test. They will identify and fix any unforeseen leaks, and then turn your house back over to you.
Fixing the drywall and moving back into your house is the final step. You'll want to work with your plumbing team and a drywall specialist, coordinating their work to minimize the time you have to spend away from your home.
What Should I Do While My Atlanta House Is Re-Piped?
It's best not to travel too far from home (in case we need your review and approval for any changes) so we recommend a little staycation. Luckily, there is always something fun going on in Midtown. For example, the B-52s are hosting Halloween Scream at the Fox Theatre on Friday, October 30. You can dance your cares away while we get your love shack back on track!
Who Should I Call to Schedule an Inspection of My Pipes?
Our plumbing pros are ready and waiting to help you. If you're in Midtown Atlanta, we can re-pipe your whole home, top to bottom, and get you back inside in record time. And while there are numerous plumbing companies in Atlanta, there's only one Morningside. Just click or call us today at 404-873-1881 and let our team of pro plumbers help you with your total home re-pipe.