Garbage disposal repairs in Atlanta are standard maintenance. How to tell if it's time to repair your garbage disposal or if it's time to replace it with a new one?
Is It Possible To Repair Garbage Disposals in Atlanta?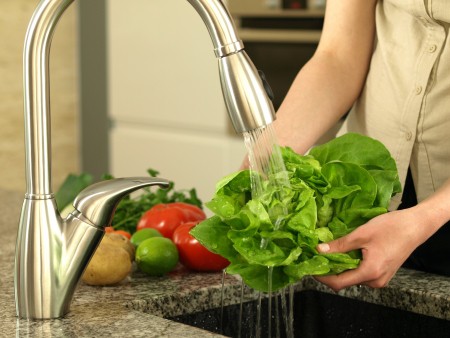 When people need garbage disposal repairs in Atlanta, they look for one thing in a plumber: Someone who will assess their problem and be honest about the "repair or replace" question. There are times you can fix a garbage disposal, but often you'll need to replace the whole unit.
The short answer to the repair question is yes; you can repair a garbage disposal. The thing to remember, though, is the machine is pretty basic, and the repair process is usually straightforward. If this simple method doesn't work, then it is often time to buy something new.
The number one reason garbage disposals fail is jamming in the mechanism. This kind of clog is so familiar that the manufacturer includes the fix when you make your purchase. At the bottom of the garbage disposal, right in the center, you'll find a small hole. Insert the Allen wrench that came with the disposal into that hole and give the wrench a quarter turn.
This wrench action opens up the cutting blades and allows the offending item to move through the disposal system. If there is a jam from any obstruction, this will usually solve the problem.
The start switch may be another quick repair item on a garbage disposal. If this switch should fail, you can have it replaced. However, if the problem with your disposal is the motor, you might as well start shopping. You cannot replace the engine in a garbage disposal. Instead, you buy the entire appliance.
In Atlanta, Repairs for Garbage Disposal Don't Have To Be Expensive
Here's a question for you: When you hear the word "plumber," what's the next thing that comes to mind? Yep, we knew you were going to say that. That's why you'll love the way we do business. At Morningside Plumbing, it isn't all about the dollar. Our primary concern is preventing damage in your home due to plumbing problems.
We don't work on a commission basis. That saves you money because our plumbers will never pad or add on to your estimate with unneeded repairs. We merely assess what's there and let you know what it's going to take to fix it. This kind of fair business keeps your costs down every time.
Even In Atlanta Garbage Disposal Repairs Might Not Be Possible
If unjamming the disposal doesn't fix the problem, and you've checked the switches, you may need to replace the unit. Before you head down to the local appliance store, have a chat with a certified plumber. Find out which types of disposals have a reputation for lasting a long time. Which are the best grinders? Do you have options other than a disposal?
Depending on what your need is, your local plumber may be able to guide you to the best appliance for your needs. Because we work in your neighborhood, we understand what water and plumbing problems are most common in your area. When you plan your appliances and plumbing from the installation point on, you may wind up saving a great deal of money in maintenance and repair in the future.
A Neighborhood Plumbing Service Repairs Garbage Disposals and More
Having a regular local plumber you call for all your plumbing work is a definite perk of belonging to a neighborhood. It's nice when you feel comfortable opening the door to a service worker. You know when you dial the phone you'll get professional work at a fair price. You know you'll get excellence in professionalism, friendliness and helpful knowledge.
At Morningside Plumbing, we're here 24/7 to help you with an emergency plumbing repair as well. If you wake up at 2 a.m. to water spraying across the floor, contact us here. We'll be out right away and handle that emergency. Along with your garbage disposal repairs in Atlanta, we can take care of any residential plumbing need.