When a plumbing nightmare strikes, it helps to have professional 24/7 emergency plumbing services to help.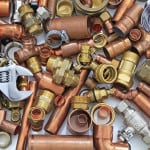 It never fails that your need for emergency plumbing services will happen at the most inconvenient times. Whether your toilet is overflowing in the middle of the night, or your garbage disposal quits working while you are prepping for a big family Thanksgiving meal—plumbing problems just don't know how to respect your time and plans.
While you can't always guess when the plumbing troubles will happen, you can get peace of mind by having a professional plumbing company on speed dial that delivers 24/7 emergency plumbing services. That means, day or night, weekday or weekend, and even on holidays, you will be able to get a qualified, professional plumber to your home to take care of matters quickly, so you can get on with your life.
Finding Emergency Plumbing Services
When choosing the plumbing company to put on speed dial, there are few factors to consider. You will want to find the right company who offers the following:
24/7 emergency services
Immediate service calls
Certified, licensed and insured plumbers
Affordable service without a constant upsell
Friendly customer service
Professionalism
Wide range of specialties
Many years of experience
Satisfied customers
Being able to identify the right plumbing company to meet your needs will mean you have a back-up to handle any plumbing emergencies that come your way. No need to panic or start trying to fix the problem yourself when you aren't sure what you are doing. One call, and you will have a professional plumbing team ready to go to work for you.
When to Call for Emergency Plumbing Services
There may be times when you wonder if you can just handle the plumbing problem yourself rather than call in emergency services. For those of you with an adventurous nature or special skills with the plunger, you can try to go to work on a clogged toilet or sink, but beware of some issues that may arise:
You may find that the problem appears to be fixed initially, only to discover it comes back minutes or hours or days later—and always at the worst time possible.
There may be an underlying issue that plunging simply can't fix, so taking the Band-Aid approach of plunging will get old fast—and wastes your precious time.
Call for emergency plumbing services when:
A pipe has burst. A burst pipe needs to be addressed immediately, because it impacts your home or business's entire plumbing system.
You have no water flowing. If water is not flowing at all, you have a big problem on your hands and require emergency services.
Sewage is backing up. This is an obvious one. As soon as you smell it, you will want help immediately.
You have large water leaks. If you are seeing more than a drip leaking, you need emergency plumbing services. Before you make the call, turn off the shutoff valve to stop the leaking.
You see discolored water. Whether you are drinking or washing with it, you want to be sure your water isn't contaminated.
Keep in mind, when water leaks and sewage backups are involved, health hazards, safety hazards and property damage are likely right around the corner. Stay one step ahead of your plumbing issues by being ready to contact a qualified emergency plumbing service you can trust. It's frustrating to have to search for the right plumber when you are in crisis mode. By locating your preferred emergency plumber now, you will be ready when those inevitable plumbing emergencies show up.
Experienced Atlanta Plumbers Can Assist You
At Morningside Plumbing, we have a collective 75 years of plumbing experience and have been serving Midtown Atlanta for more than 50 years. We have seen our fair share of plumbing emergencies and know exactly what it takes to handle your plumbing problems quickly, efficiently and safely, so you can get your home or business back to normal right away.
Click for our online contact form or call (404) 873-1881 to learn more about our 24/7 emergency services.